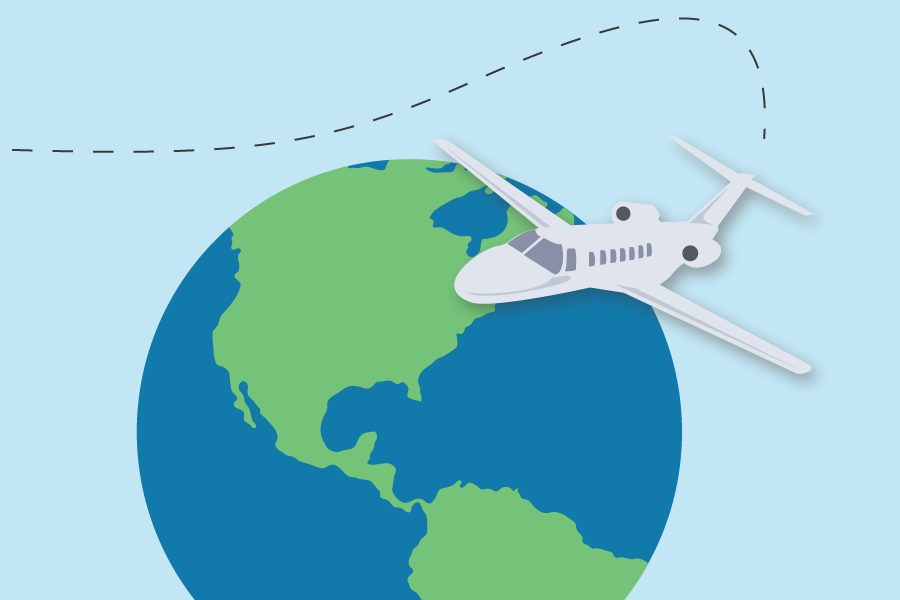 Students, faculty reflect on study abroad experiences impact on future careers
When Alissa Alson returned to UC Davis after a year spent on an independent study trip in Ireland, she knew she did not want to continue pursuing her major in biological systems engineering.
"I took about two quarters [for that major] and realized that wasn't really what I wanted to do," said Alson, a fourth-year student who now works as an administrative assistant at the Study Abroad Center. "I already knew I was studying abroad […] so I went and I figured 'I'm going to take whatever classes sound fun.'"
While abroad, Alson took classes on Celtic civilization and Irish folklore. By embracing the opportunities she was presented with abroad, Alson discovered that she "really liked delving into other cultures" and decided to instead pursue a major in international relations.
"[Study Abroad tries] to focus on the life experience," said Pablo Ortiz, professor in the UC Davis Music Department and Study Abroad instructor. "Being able to experience things face-to-face, without the mediation of a camera or social media or anything like that […] is completely different. It's […] great to be able to experience things in a more direct way."
UC Davis has over 300 study abroad programs to choose from, making the boundaries limitless both academically and geographically. In addition to approximately 50 UC Davis faculty-led programs, the systemwide UC Education Abroad Program (UCEAP) offers around 350 different plans of study at host universities around the world.  
Regardless of the program, studying abroad offers experiences that many students do not get to experience at home. Ortiz, who has taught a variety of music classes abroad, takes his students to opera festivals and street art tours.
"I take students to places that are the opposite of Davis –– places where there are […] experiences you would never have in the context of a small town in California," Ortiz said. "I believe that that makes people acquire a repertoire of behaviors [and] resources. [These experiences] confront [students] with realities that they're not confronted with here."
Along with experiencing the world outside of Davis, students who study outside of the country can also add to their "repertoire" by making new connections.
Paula Levitt, a programs manager at the Study Abroad Center who has, according to her online biography, "visited, worked or studied in 45 countries and six continents," has remained in contact with the friends she met from her time studying abroad through a UCEAP program over a decade ago. In addition to forming  new friendships, Levitt also emphasized the benefits of studying abroad with UC Davis faculty members and how they can provide letters of recommendation or research opportunities in the future.
"That's what I like about traveling –– those person to person experiences [can help you] learn more about [yourself] and also other people and cultures," Levitt said. "Staying in hostels and meeting people from all over the world […] who have similar passions, [allows you] to learn about your field from a different perspective. The reason that I'm so flexible and adaptable […] is really due to my travel experiences […] and my ability to get along with all sorts of people from different walks of life."
Like most great accomplishments, studying abroad is often accompanied by challenges of all sorts, from homesickness to culture-shock. These difficulties test a student's limits and push them to accomplish even more than they thought they would able to do.
"When you go abroad, what happens [there] is not in any way similar to what happens [at Davis]," Ortiz said. "Your food may not be what you're expecting, or the train may not leave at the time it's supposed to leave. You have to adapt to the circumstances and make the best of something that initially may look like it's bad, [until] it turns out to be one of the greatest things that may have happened to you."
Levitt also said that she encourages students to start thinking about studying abroad as early as possible, since the "experience is so impactful that they find a way to make it happen again." Though advising sessions beforehand help students plan for their trips abroad by discussing how to pack and what to bring, nothing can prepare students for the impact the trip will have on their lives.
"I think everybody should go abroad," Ortiz said. "Most of the [students] I've had […] always refer to their study abroad as a before-and-after, completely life-changing experience."
Megan Perry, a third-year history major, was recently accepted to the Spring 2017 London quarter abroad program during which she will have an internship and be taking two UK-themed courses. Perry applied in early October and said the reality of the trip is "surreal."
"I grew up in Sacramento so I didn't go to college very far away from home," Perry said. "Getting out of that comfort zone and finding out who [I am] as a person and having these new experiences […] can really help [me] grow. It's kind of nice that I'll have that experience of being away. I think it will help in the long-term in [terms of adjusting to] new circumstances."
Alson, after her experiences in Ireland, is now considering about a professional career overseeing study abroad programs. She strongly encourages students to step out of their comfort zone through the opportunities available outside of the country.
"Studying abroad is a great way to figure out, 'What do I really like? What don't I like?" Alson said. "Davis is great […], but maybe you'll find some place that speaks to you even more. Maybe there's something out there that's going to speak to you, [and] you haven't found it yet."
Written by: Allyson Tsuji & Hannah Holzer — features@theaggie.org