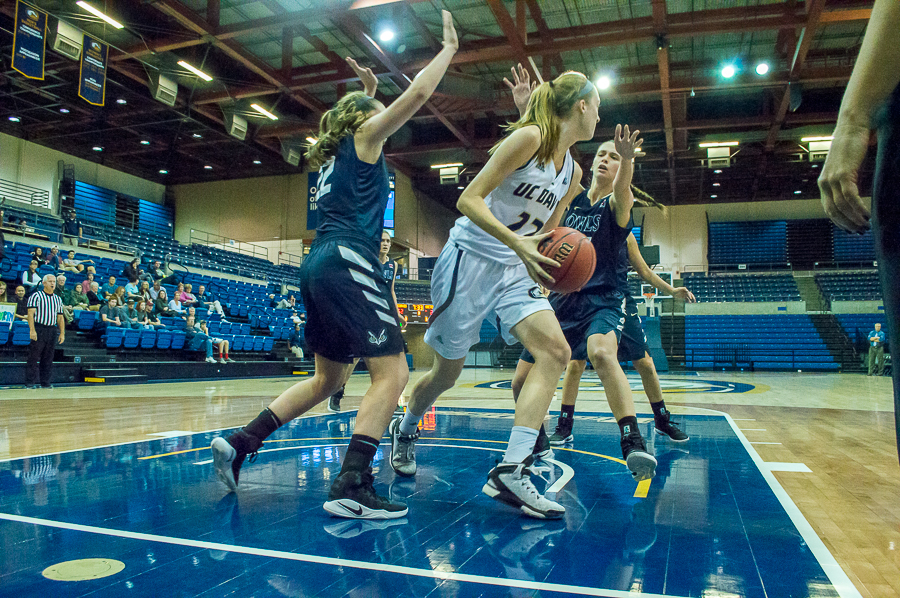 UC Davis women's basketball is back. The same team that shocked the conference with an upset over undefeated UC Riverside in the Big West Tournament semifinals returns to The Pavilion with the addition of a talented freshman class. The 2016-2017 squad has been on campus since Summer Session Two, taking classes and working together at limited workouts with the coaching staff. Following two successful exhibition games, Aggie basketball now returns with a 7:00 p.m. tipoff against Portland State on Friday, Nov. 11.
Five freshmen join the team this season, all expecting to see immediate game action with the exception of forward Emma Gibb, who suffered an ACL injury over the summer. Guard Nina Bessolo is already making a huge impact, scoring 18 points off the bench in a 97-42 exhibition win over Oregon Tech. Fellow newcomer Sophia Song also saw game action as forward, scoring seven points and collecting eight rebounds in her preseason college debut. Redshirt junior center Marly Anderson also joins the team after sitting out last season due to transfer rules after her transition from Eastern Washington.
In the final exhibition game before preseason play, the Aggies annihilated Stanislaus State, winning 84-47. With a 15-point lead at halftime, UC Davis went on a 15-0 run to start the second half, cruising to their second exhibition victory.
"Obviously the tournament championship has been in our minds since the first day of spring practice and what we need to do to get ourselves back in that position," said head coach Jennifer
Gross. "It's easy for everyone in the country at this point to say, 'we want to win a conference championship,' but for us we're really just trying to focus on today."
Other than one senior, the Aggies have a young team that is posed to take a shot at making the NCAA Tournament in March. They will be tested along the way, facing two preseason top-25 ranked teams, Stanford and Oregon State, as well as a rigorous conference schedule.
"I think this team is capable of beating everybody on our schedule. Obviously against teams like Stanford and Oregon State, which are tremendous teams, you have to be at your best," Gross said. "I'm just excited to compete against every team. I feel like there's not an easy game on our schedule and there's not a game we can't be in."
The team is led by redshirt senior forward Lauren Beyer, as well as a trio of juniors who have taken on unique leadership roles. Redshirt sophomore Morgan Bertsch, who finished top 10 in the nation last season in field goal percentage, is expected to be even better, according to Gross.
"With all these young players, it's all about moving the program forward," Gross said. "To have [had] an opportunity to play for a championship last year, even though we fell just short, we know that we are capable of competing at a high level and I think our schedule will give us the opportunity to do that."
Written by: George McConnell — sports@theaggie.org