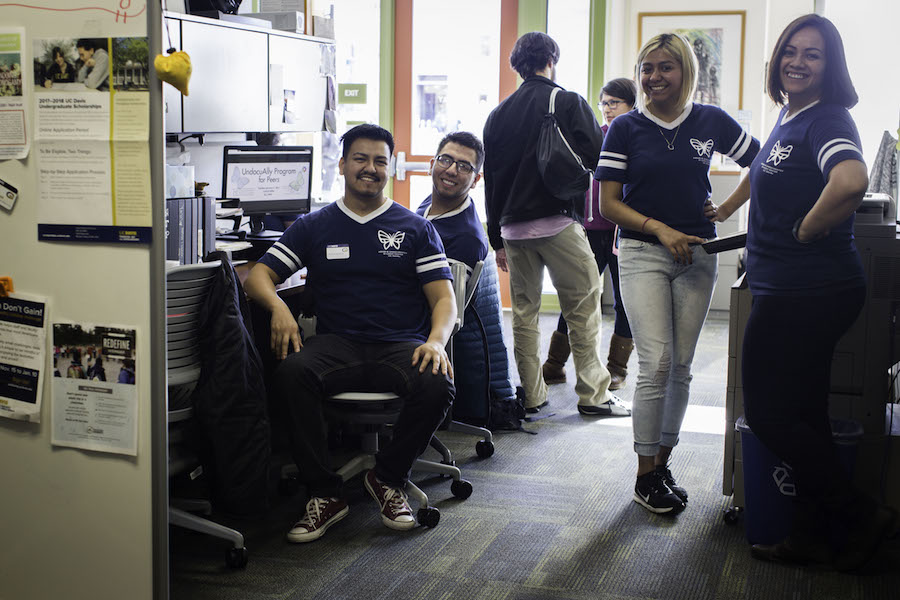 Higher education leaders stand by undocumented students
With the upcoming presidential inauguration on Jan. 20, leaders of the University of California (UC), California State University (CSU) and California Community College (CCC) have been pressing President-elect Donald Trump to continue the Deferred Action for Childhood Arrivals (DACA) immigration policy for students involved in the program to be able to maintain their higher education in California.
DACA was started under the Obama administration in June 2012 to allow undocumented minors who immigrated to the United States to request renewable protection from deportation. The protection lasts two years given that the individuals meet certain qualifications, according to the U.S. Citizenship and Immigration Services' website. Eligible "Dreamers" may acquire a work permit and go to school in the United States without being citizens.
Trump has repeatedly mentioned his plans to end the program, which could put many Dreamers at risk of being deported, including students at UC Davis. In response, UC President Janet Napolitano, CSU Chancellor Timothy White and CCC Chancellor-designate Eloy Ortiz Oakley composed a letter to Trump on Nov. 29 explaining why it is essential for him to keep DACA intact.
"These sons and daughters of undocumented immigrants are as American as any other child across the nation, in all but in the letter of the law," the letter read. "They should be able to pursue their dream of higher education without fear of being arrested, deported or rounded up for just trying to learn."
Though it is not certain that DACA will be annulled, UC Davis administrators are prepared to protect students' right to pursue higher education.
"The University will continue to protect the privacy of student records and information, which are confidential under law," UC Spokesperson Claire Doan said in an e-mail. "The Principles also establish a consistent system-wide policy that campus police departments will not act as adjunct immigration officers, [and] their focus will remain [on] student safety."
Despite the UC's plans to support these Dreamers, the Senate Judiciary Committee hearing on Jan. 10 revealed the high possibility of Trump removing DACA, according to online magazine Salon Media Group.
"[DACA] would need to be studied, [but] it would certainly be constitutional, I believe, to end that order," Trump's Attorney General nominee Senator Jeff Sessions said in the hearing. "[The Department of Justice] would have no objection to a decision to abandon that order."
Salon Media Group said that Sessions will potentially recommend that Trump end DACA, but Sessions did not mention the resulting arrangement for the 800,000 DACA-registered immigrants.
However, Andrea Gaytan, director of the AB540 and Undocumented Student Center, said that repealing DACA would mean students could lose protection from deportation, opportunities to work legally, ability to travel for research purposes and, in some states, their driver's licenses. Gaytan said students should be concerned for themselves, friends or loved ones who are currently involved with DACA.
"We're trying to make sure that […] students have access to legal information and know their rights," Gaytan said. "[And] to make sure the greater campus community also knows how to support undocumented individuals."
Meanwhile, Gaytan reminds AB540 and undocumented students to stay focused in school and confide in the community of people here at UC Davis to help them, especially if they are afraid to share their immigration status.
"The center serves to provide a sense of consistency and normalcy," Gaytan said. "We hope that students know there are people at this campus who care about them and want to help them, and that we have resources to try to make that happen."
The future of these Dreamers will soon be in Trump's hands when he is sworn into presidency on Inauguration Day. Until then, California higher education leaders will work to protect DACA students.
DACA-status students who are currently traveling abroad are instructed to return to the United States before Jan. 20, as they may have difficulty entering the country afterwards. The AB540 and Undocumented Student Center urges DACA students to contact them immediately for legal help, if they have not done so already.
Written by: Jeanna Totah — campus@theaggie.org