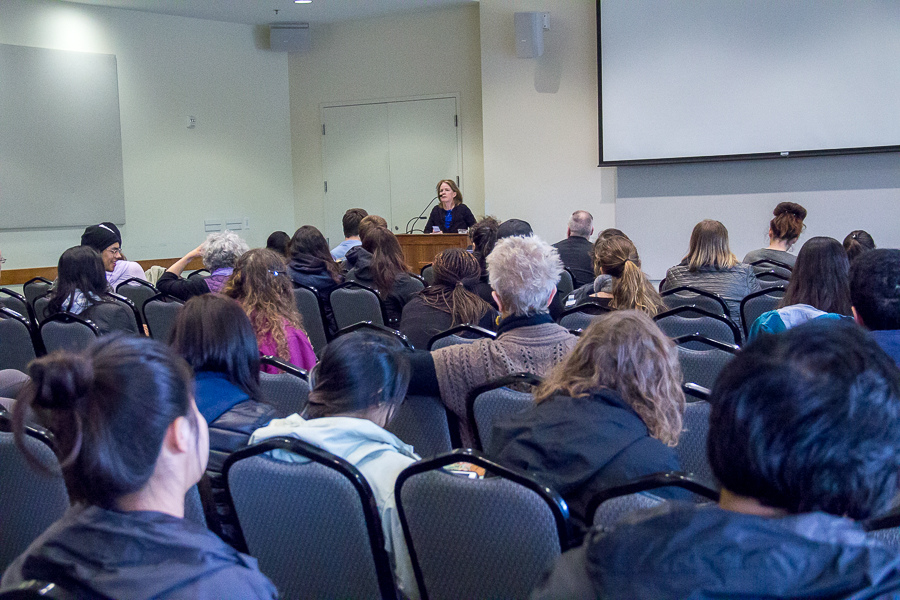 UC Student Workers Union hosts walkout, teach-ins protesting Trump, University of California
The UC Student Workers Union – Davis participated in a UC-wide walkout on Jan. 20 and hosted on campus teach-ins to protest the inauguration of President Donald Trump. The teach-ins provided an outlet for UC Davis professors and guest scholars to explore President Trump's potential impact on civil, political, racial and sexual rights. The union also included a list of demands to the University of California (UC) which included denouncing Trump's presidency and democratizing the UC Regents administration.   
On its Facebook page and website, the union highlights discrimination that its members believe the new president has helped perpetuate.
"We must take action as students, workers, faculty, and staff against the racism, sexism, classism, homophobia, transphobia, xenophobia, and ableism that Trump has normalized in this country, both structurally and rhetorical," the organization said. "All UCD students, staff, and faculty are encouraged to participate in the walkout and express resistance to the incoming Trump regime in whatever manner they find most appropriate, be it protest, teach-ins, or simply staying at home with a good book."
The United Automobile Workers (UAW), which houses the UC Student Workers Union – Davis, is comprised of 600 nationwide chapters. UAW 2865 represents the 16,000 University of California student-faculty from every UC campus.
Connor Gorman, a UAW 2865 organizer in the Davis chapter, described this inauguration day as an opportunity to protest both the new presidential administration and UC Davis administration.
"We called for a walkout in order to protest the Trump administration, but also to protest the larger structural issues that he's just the latest manifestation of," Gorman said. "All of these systems of oppression and the various inequalities created have been around since the formation of the U.S. and in other countries prior to that, so these aren't new things. It's a larger structural issue."
The UAW 2865 also has 11 demands listened on its website and Facebook page. The union describes its demands as advocating for the marginalized, such as undocumented immigrants and LGBTQ+ people, along with restoring a democratic higher education.
"We are also making demands of the UC because there are many things that relate to Trump but also relate to the UC," Gorman said. "For instance, we are demanding that the UC formally make all of the campuses sanctuaries. We also want to democratize the regents. Right now, the structure of the UC is very undemocratic, it's very corporate, they don't listen to students or workers or community members, and we want more say in that."
The demands include denouncing Donald Trump's presidency, fully demilitarizing UC campuses and implementing free education and healthcare. The demand of democratizing the Regents' administration relates back to last year's Democratize UC movement.  
Tobias Warner, a faculty member in the Department of French and Italian who attended a teach-in, views education as an important and challenging factor amidst the new political climate.
"I think our primary job as faculty is teaching," Warner said. "At a time when many of the missions of the University are thrown into question by incoming administration and some of its declared policies, the faculty should continue to teach. That's why I'm here."
Iris Bloomfield, a fourth-year English major who attended the teach-ins, is worried about the new White House administration but expressed a commitment to maintaining a reparative dialogue.  
"If anyone has been paying attention to the kind of conflicts that have come to the light of day as Trump has campaigned and won, whether we want to contest that title of president or not, I'm concerned," Bloomfield said. "I know that plenty of other folks are concerned and I think one of the most important things we can do right now is get together and have conversations about where we need to be organizing and what people are most concerned about."
Bloomfield and other concerned students will continue to bolster disenfranchised community members around them and assist in the anti-Trump movement.
"I'm certainly [interested] in showing up, listening and helping out where I can in order to work to make sure that we have resources and are making an effort to protect the most vulnerable around us right now," Bloomfield said.
Written by: Aaron Liss — campus@theaggie.org