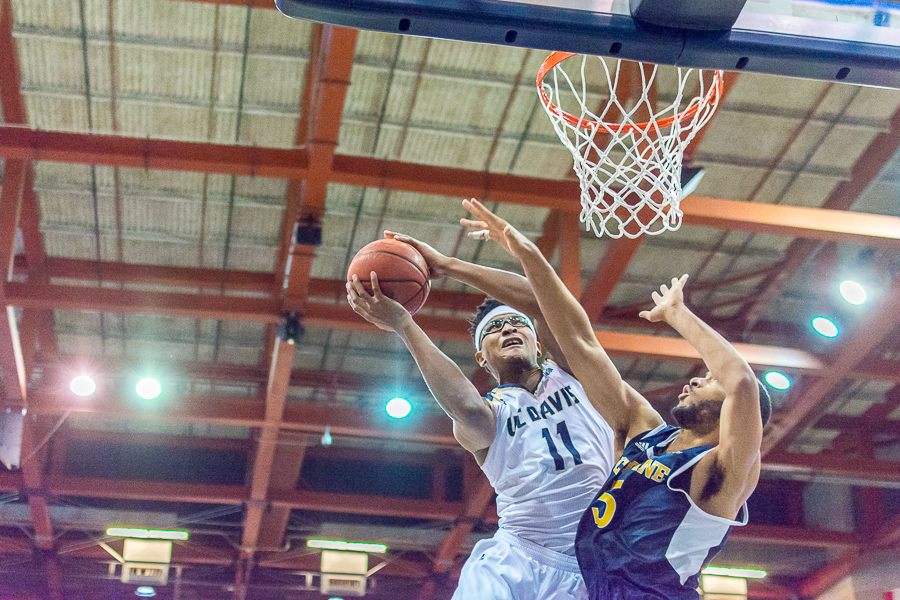 The California Aggie sits down with UC Davis men's basketball star
Height: 6'6"
Year: Junior
Position: Forward
Major: Communication
Hometown: Canberra, Australia
High School: Lake Ginninderra College
Community College: Northeast Community
History: Played for Northeast Community, where he averaged 17 points per game, and for Lake Ginninderra College, where he averaged 16 points per game his senior year
Accolades: Named Big West Player of the Week for Jan. 2, was first team all-region honors both seasons at Northeast Community, named MVP Team Player at the Australian Schoolboys Championships
Junior forward Chima Moneke is the star of the UC Davis men's basketball team this season. If fans do not know him for his jaw-dropping basketball skills, they know him for his sports goggles. The California Aggie had the chance to sit down with Chima Moneke to discuss his basketball career so far and his aspirations as both an Aggie and as a basketball player in general.
How long have you been playing basketball? What got you into the sport?
I've been playing basketball for eight years now and I just started playing because my friends suggested we play. I had just gone back to Australia for high school and I was playing soccer at the time and wanted to try something new.
Your hometown is in Australia. You went to Northeast Community in Nebraska, and now you're here. How did you end up at UC Davis?
When I got to Nebraska, I was playing pretty well. After my freshman year, I played at a showcase in St. Louis, Missouri and Coach [Jim] Les saw me play and he was the first one to offer me [a spot on the team]. We just kept in touch the whole time and that was the year [the UC Davis men's basketball team] ended up winning the [conference] championship. That really left a mark on me and I was like, "Oh, okay, I want to come here." I took my visit on Picnic Day and that sealed the deal.
Last year you were the Big West Conference's representative at the 2016 NCAA Leadership Forum.
That was pretty big time and I didn't understand how big a time it was until I actually went there. When I heard I got nominated, I was like, "Oh, that's pretty cool." I didn't really get it, I was just like, "Okay, four days in Arizona, that's going to be nice," but when I got there it was amazing. It was a great experience that I'll never forget.
How did it feel to be awarded Player of the Week earlier in the season?
It was cool. It was cool to get recognized by the Big West, but honestly, I just want to win, and if I get [Big West Conference Men's Basketball] Player of the Year, that's when I'm going to celebrate.
In the game against Hawai'i on Saturday, Jan. 21, you had a career-high 26 points and 13 rebounds — one shy of a career high —  and you recorded your fourth 20-and-10 game and program-record eighth double-double of the season.
Hawai'i was a great game for me. The crowd was pretty intense and they were very loud and there was a lot of people there. I like playing in those kinds of environments and it definitely brought out the best in me. I feel like I played well defensively and I was energetic on that end and that's what led to me playing pretty well offensively as well.
What is the ultimate goal for you to achieve athletically at UC Davis during your next couple years?
I definitely want to go to the NCAA Tournament both years and win the conference tournament and just put [UC] Davis on the map and make [UC] Davis relevant athletically for the years to come.
How do you feel the team is doing right now?
Right now we're playing our best basketball and we're playing really well defensively. I feel like we're sharing the ball offensively and we're clicking at the right time. I feel like it's scary for other teams to want to play us, especially coming here seeing as we're undefeated here [at home].
How does the team react to your performance this season and the records you have been breaking and the accolades you have received? What is the level of support from them?
They're very supportive, but at the end of the day, I'm one of them. I wouldn't be able to break any of those records without them, so they treat me the same way. I'm still the same goofy guy. It's nothing different, which is what I love. I don't want them to treat me any differently.
What are your plans for after you graduate?
When I graduate, I want to play in the NBA. If I don't play in the NBA, I want to play in Europe — I want to play professionally somewhere. I want to be able to take care of my family and just be able to see them because I haven't seen them in so long.
Written by: Liz Jacobson — sports@theaggie.org