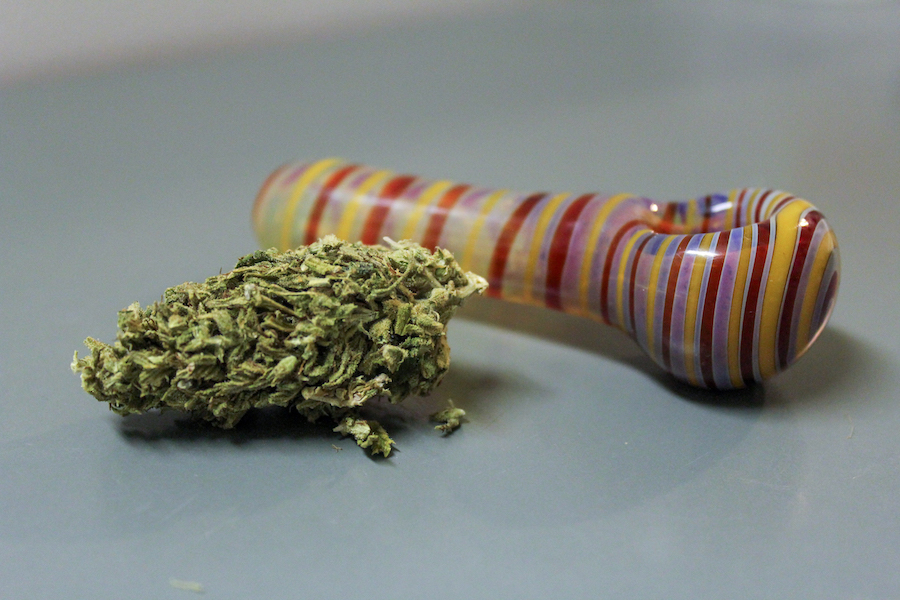 Class to explore medical, physiological benefits, risks of cannabis, cannabinoids
UC Davis undergraduate students can now enroll in a new science course that examines the physiological effects of cannabis on major organ systems in humans. Physiology of Cannabis (HPH 115) will provide students with an intensive overview of the health benefits and risks associated with medical and recreational marijuana usage.
The UC Davis School of Medicine faculty designed the course with the intention of educating biology, physiology or pre-med students on the effects of cannabis on the human body.
"The goal of the class is to give all of the students a very detailed understanding of how cannabis send signals in the nervous system and how they control cardiac and respiratory systems," said Luis Fernando-Santana, the chair of the Department of Physiology and Membrane Biology at the UC Davis School of Medicine. "By understanding how that works, students will have a better understanding of how cannabis as a medical or recreational drug will impact our lives."
Cannabis is often used to treat chronic pain and alleviate the effects of chemotherapy, according to Santana. However, the plant is often regulated and not easily accessible in every state. Medical use of marijuana is currently legal in 28 states, and recreational use is legal in eight states, including the District of Columbia.
Following the ratification of Proposition 64 in November 2016, which legalized recreational use of marijuana in California, the UC Davis School of Medicine faculty members pushed the notion of designing a class centered on the study of cannabis.
"With marijuana being approved for medical purposes in multiple states and recently with the vote in California that approved the use of marijuana for recreational purposes, we felt that it was imperative that we train our students and eventually offer courses to the general public," Satana said.
Students enrolled in Physiology of Cannabis will analyze cannabinoids such as tetrahydrocannabinol (THC), chemical compounds secreted by cannabis plants that alleviate pain, nausea and inflammation. The class will also explore the natural cannabinoids produced by human bodies (endocannabinoids) and dangerous, man-made chemical analogs that mirror the effects of cannabis (synthetic cannabinoids).
Yu-Fung Lin, an associate professor at the UC Davis School of Medicine and the course instructor, hopes that the class will enhance students' scientific perspectives on cannabis.
"I think it is important that we provide the opportunity to educate students about what cannabis and cannabinoids are in terms of their mechanisms and evaluate the current literature on the potential risks associated with it," Lin said.
The Department of Physiology and Membrane Biology is currently in the works of designing a cannabis class for UC Davis medical school students, which will have a stronger emphasis on the plant's medical relevance. In upcoming years, faculty at the School of Medicine hope to design a cannabis course intended for students of any major.
Carson Moss, a fourth-year neurobiology, physiology and behavior major, commended the School of Medicine for providing undergraduates with the opportunity to explore more focused interests.
"Ideas about the recreational and medical purposes of marijuana should be formed around facts," Moss said. "I think educating people on topics such as this is one of the best approaches we have for these controversial topics. […] Perhaps something like this would lead to better research in the future, as well."
Physiology of Cannabis is one of the only undergraduate courses in the nation that will intensively emphasize the study of cannabis and cannabinoids, according to Santana. As medical and recreational marijuana laws continue to adjust over time, other universities may follow in UC Davis' footsteps.
"It's very likely that medical and recreational marijuana will expand their presences in the United States," Santana said. "We need to prepare professionals for it."
Written by: Emma Sadlowski — science@theaggie.org