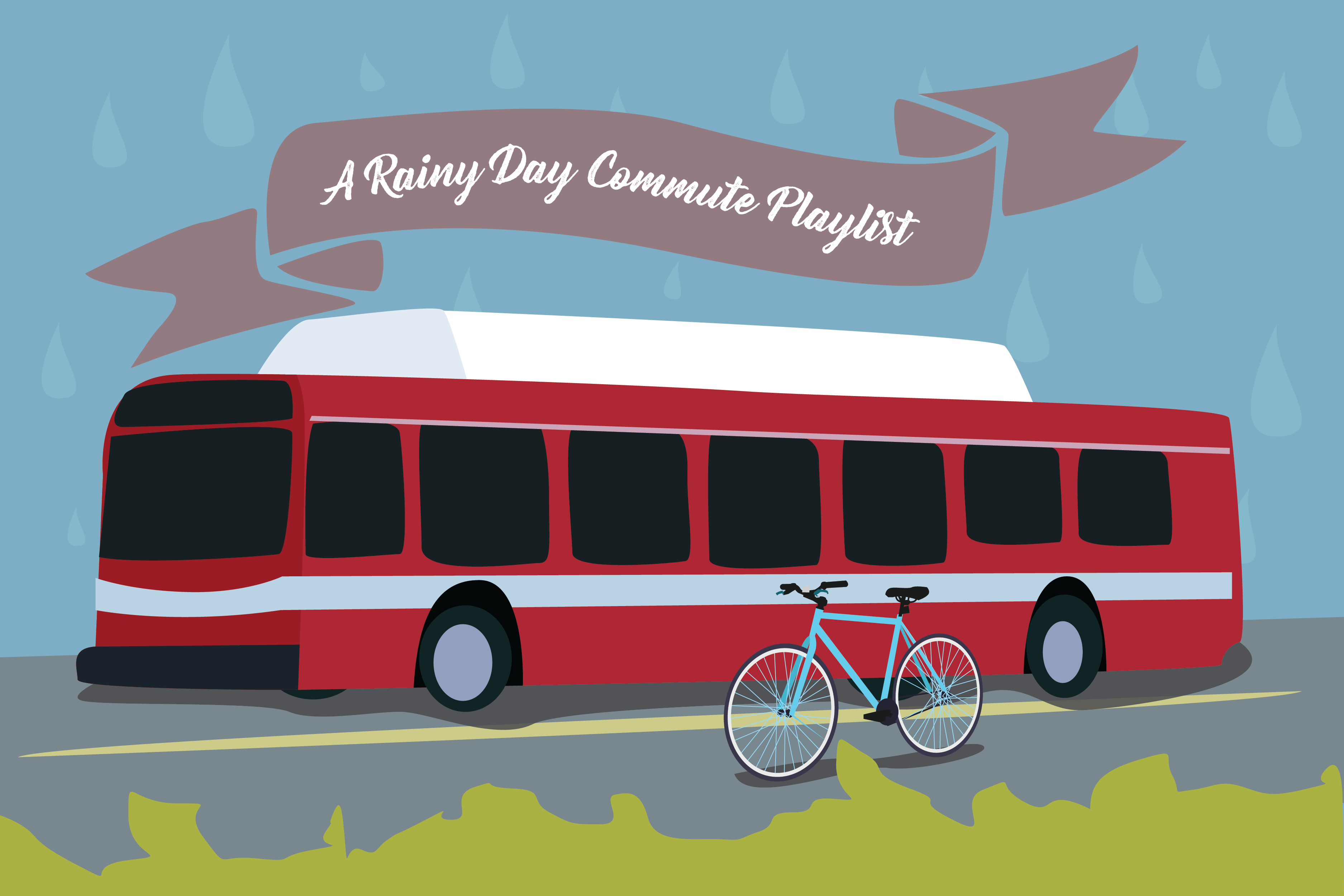 Raindrop, drop top, this playlist is pretty hot hot
Your backpack is soaked and your feet are cold and wet. At the very least, you've got the perfect playlist for your rainy day commute.
"Good Ol' Fashion Nightmare" — Matt and Kim
Even though you checked the weather the night before and you knew the rain was coming, no amount of mental preparation can help ease the chill down your spine in response to waking up to the sound of pounding rain. It's a good ol' fashioned nightmare. After contemplating whether to skip class or deal with the weather head-on, the long walk to campus is no longer an option — "concrete and cracks won't cut you deals." Now you must brave the storm and commute to campus.
"Appreciate" — Lemaitre
In times of true collegiate adversity, it is the random acts of kindness that make the sun shine on a cloudy day — the person who yields to you at the bike circle, the person who makes room for you on the bus, the umbrella-wielding student who doesn't hit you in the face.
"Campus" — Vampire Weekend
Just kidding — rainy days are a warzone that implements survival of the fittest. And with elephant-like memory, you definitely won't forget the face of the person who splashed you as they biked quickly over a puddle in front of you. You'll see them "walking across the campus" and think "I never want to see you again." Hopefully the cheery and sophisticated sound of the boat-shoe-wearing New Yorkers of Vampire Weekend, who survived brutal winters at Columbia University, will bring back your appreciation.
"Something Ain't Right" — STRFKR
As rain pours down on your face in despair, you question your decision to live three miles off campus in exchange for cheaper rent. The hectic commute: "was it something you needed or something you wanted?"
"I Don't Really Mind" — Tame Impala
The last step of the grieving process is acceptance. When you get uncomfortably close to someone on the bus, when you accidently ride your bike through a puddle or when your umbrella breaks in the vicious wind, you can only shrug and subtly head-bang to some genius guitar solos.
"Congratulations" — Post Malone
You made it to class. Give yourself a pat on the back and high-five that guy sitting in the aisle as you walk past him to take a seat. Why be surprised? You've "been balling since a baby" and you made it to Stats 13: "now they always say congratulations."
"Sidewalks" — The Weeknd  
After the day is over, your pants are awkwardly soaked only on the front side and you feel both mentally and physically exhausted from the horror that is commuting during a rainy day. You have an existential breakdown as you question your decision-making abilities — who decided it was a good idea to deal with public transportation or biking on a rainy day? Tomorrow you decide to walk because "sidewalks saved my life / they showed me all the signs." Shoutout to sidewalks for keeping us off the streets.
Written by: Caroline Rutten — arts@theaggie.org