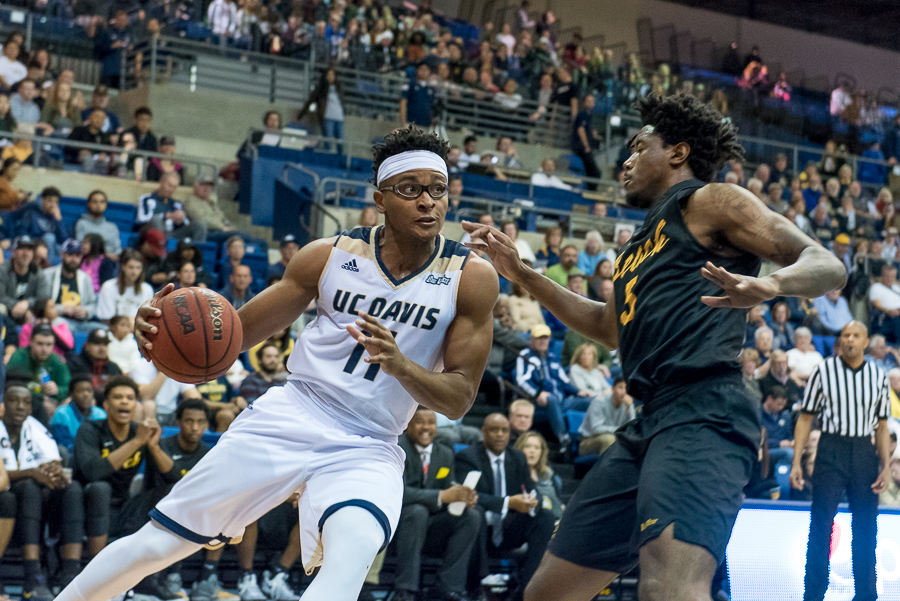 Despite some ups and downs, men's basketball triumphs behind Moneke's double-double, Graham's heroics
With a national TV audience and a packed house at home, the UC Davis men's basketball team came into the game on Saturday, Feb. 25 knowing that it was not only expected to put on a show for its fans and its family, but also to win a game on the big stage. With Long Beach State, a team that had recently beaten the Aggies on Feb. 16, the challenge was tough.
After a hard-fought game that included 12 lead changes, 11 ties and a waved-off game-winner by junior forward Chima Moneke, the game was finally settled in overtime, where the Aggies cut away toward a 75-71 victory over the 49ers, further securing their current spot atop the Big West Conference standings.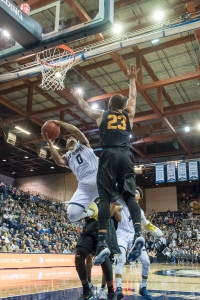 It was not an easy win for the Aggies. Despite leading for a majority of the game, the Aggies were never able to go ahead by more than six points, and the 49ers never led by more than four. With Long Beach's 6'7", 255-pound sophomore forward Temidayo Yussuf below the basket, Moneke and senior forward J.T. Adenrele were tasked with keeping the 49ers out of the paint and head coach Jim Les applauded them for taking the task, which eventually led to Yussuf fouling out.
"I thought J.T. and Chima ran to the fight tonight," Les said. "I thought they stuck their nose in, and they battled. Their aggressiveness fouled him out, so I really liked their approach."
The Aggies knew that they needed to call upon their leaders and their two leading scorers, Moneke and senior guard Brynton Lemar. Each responded. Despite struggling from beyond the three-point line, shooting just two for 10, Lemar shot six for nine from inside the arc on his way to 25 points. Moneke had his 11th double-double of the season with 18 points and 17 rebounds. Graham finished with 13 points of his own. The team also responded on defense, where no 49er scored more than 13 points.
The final three minutes of the game saw the Aggies both trailing by four and leading by four after Graham was fouled on a made two, sunk the free throw, and scored a late three-pointer to beat the shot clock. Unfortunately for the Aggies, a pair of fouls and an ill-timed turnover tied the game back up before Moneke tipped in a buzzer-beater at the end of regulation. However, after replay review, the referees determined that the shot was too late, sending the game into overtime. Moneke knew that he had to stay in the right mindset, despite the fact that he did not know whether the shot would count or not.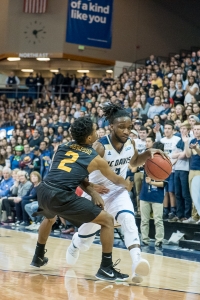 "Basketball is a game of runs, and you've seen some crazy stuff happen," Moneke said. "So, the game isn't over until it's zero. [I said] 'They're going to review it, it's not over.'"
For Graham, the crowd and the atmosphere played a huge part in securing this victory for the Aggies, and the players had it marked on their calendars.
"It's funny, I was being dropped off by Mikey (Henn) last night," Graham said. "And I told him, I said, 'You've never experienced anything like this, that you're about to experience tomorrow.' This is last night, and I was like, 'This is going to be crazy.' And it was definitely that, and more."
Despite the well-fought victory on national television, Les knows that the team has to move forward if they want to finish the last two games strongly.
"I don't know where this one ranks, I just know that it was a heck of a win," Les said. "It was a win that we absolutely needed, and this team has great pride playing here in The Pavilion, and a refuse-to-lose attitude, and any way we can get it done, we get it done. Other than that, it's kind of, we'll enjoy this for 24 hours and get back to work, because we have a big senior night coming up on Thursday."
The Aggies will play one last game at home on Thursday, March 2 at 7 p.m. before closing out the regular season on the road at Irvine.
Written by: Bradley Geiser — sports@theaggie.org