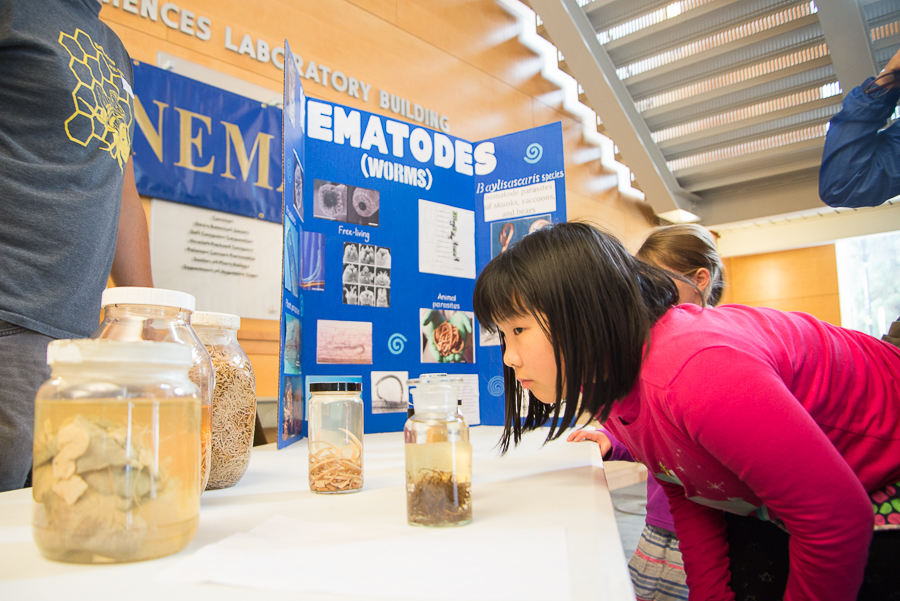 Biodiversity Museum Day showcases nematodes, yeast cultures, wildlife conservation
The UC Davis campus swarmed with guests of all ages on Feb. 19 as they examined the cutting-edge research done at the university. Among the research displayed were collections of nematodes, fish biology and yeast and wildlife.
The small but mighty nematode fanfare at the Biodiversity Museum Day featured a dynamic microscope in which visitors could see the small worms up close, as well as several jars full of nematodes relevant to daily life, such as a preserved dog heart in a jar with heartworms, a species of nematode, and also a preserved peach root that had root-knot nematodes, one of the organisms most economically damaging to agriculture.
According to Chris Pagan, Ph.D. student in the Department of Entomology and Nematology graduate group at UC Davis, nematodes make up about 80 percent of all multicellular animals on earth.
"Most people don't know they exist, and not many species have been described," Pagan said. "Only about 27,000 species of nematodes have been described […] [Nematodes] are everywhere life exists, obviously they are doing something and we've just begun the scratch the surface of that."
The two small table displays generated a big crowd when they opened; children flocked to the microscopes and examined jars of nematodes eagerly. Pagan stressed that events like Biodiversity Museum Day are important to science but also important to generate "nematode appreciation."
"These [events] are really gateways to science […] and generating interest in science in general," Pagan said.
The Phaff Yeast Culture Collection had a two-room exhibition complete with microscopes and taste tests. There were several tables with displays explaining the institute's research and its yeast collection. Kyria Boundy Mills, the curator of the Phaff Yeast Culture Collection, has been with the collection since 1998.
Mills maintains over 800 different species of yeast. Mills' job includes sending yeast out to people who are doing research while also conducting her own research and expanding the collection. The Phaff Yeast Culture Collection is one of only four collections in the world that holds this much variety and volume of yeast species.
The research that Mills conducts has led to the discovery of a new kind of glycolipid, a molecule that contains a sugar component and a fat component.
"We've got some publications on the structure of these weird glycolipids," Mills said "It's a new class of molecules. Working with the metabolomic center, we were able to identify the chemical structure."
According to Mills, the molecule's nature makes it a natural detergent that is both biodegradable and environmentally friendly.
The Museum of Wildlife and Fish showed off an impressive collection of the animal kingdom. The display included primate skulls, touchable reptiles, a lion skin and bird dissections. The museum holds 55,000 vertebrates and is one of campus' "best kept secrets," according to Andrew Engilis, the museum's curator.
Research done at the museum includes projects such as the Putah Creek Nestbox Highway, which involves setting up nest boxes for cavernous nesting birds while a team monitors them.
"The museum is very dynamic: it's not just specimens in drawers and cases; it's the focal point for teaching in our department," Engilis said. "The specimens are a way for the students to connect to the natural world from the textbook."
Nematodes, yeast cultures and wildlife conservation are just a small portion of what Biodiversity Museum Day had to offer.
"[Events like Biodiversity Museum Day] pave the way for a brighter future for our collections here on campus and across this campus our some of California's most important collections," Engilis said.
Written by: Emma Askea — science@theaggie.org