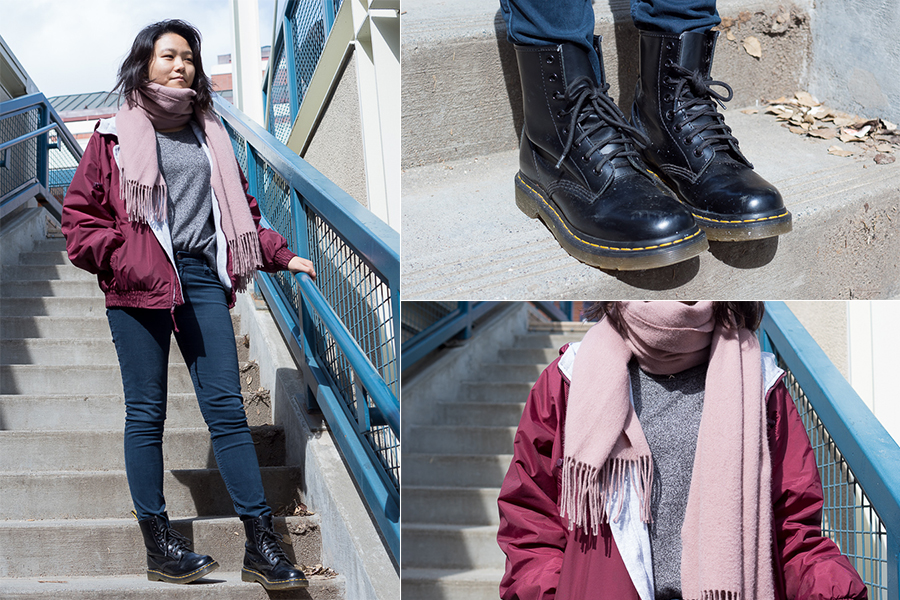 The queen of mixing and matching
Kexin Zhao, a second-year material science and engineer major, believes in the practice of mismatching. She is an advocate of wearing comfortable clothes and stepping outside one's pattern comfort zone. Zhao combines different aspects of her life into her style, such as making her old high school choir jacket chic again.
ASW: What is your style inspiration?
Zhao: I follow a lot of bloggers on YouTube and Instagram. Most times I just try to mix and match. I don't have that much time to pick my outfit everyday in the morning so I just go with what I feel comfortable with. I recently found a new blogger on YouTube, she's from the Netherlands and she's also Asian, which helps me visualize her outfits on me. It's very hard to look at the European fashion bloggers because their look and style doesn't match me.
ASW: What is your go-to outfit?
Zhao: Probably sneakers, ripped jeans and v-neck t-shirt.
ASW: Where do you usually buy your clothes? What's your favorite store?
Zhao: Asos is one of the main places I shop but I also find random places online. Urban Outfitters is my favorite store because they always have the nicest model pictures and even though you may not like the item, you see it on the model and have to try it, although it never turns out to be the case that you actually like it.
ASW: Where did you buy what you are wearing?
Zhao: The jacket is actually from my high school choir, the sweater is from Gap, the shoes from Doc Martens, the jeans are from Abercrombie & Fitch and I don't know where the scarf is from because it was a gift.
ASW: When did you start getting interested in fashion?
Zhao: In freshman year of high school people don't really care what they are wearing to be honest, but once in college, there are so many people around who dress nice. It makes me want to dress the nicest.
ASW: What is your biggest fashion regret?
Zhao: I used to have the really chubby sweatpants with the flared legs and a extremely chunky jacket that I would wear together. People used to say, "I don't know why she is wearing that" and "those pants are only to worn at home." Looking back I don't know what I was thinking except that it was really comfortable!
Written by: CaraJoy Kleinrock — arts@theaggie.org