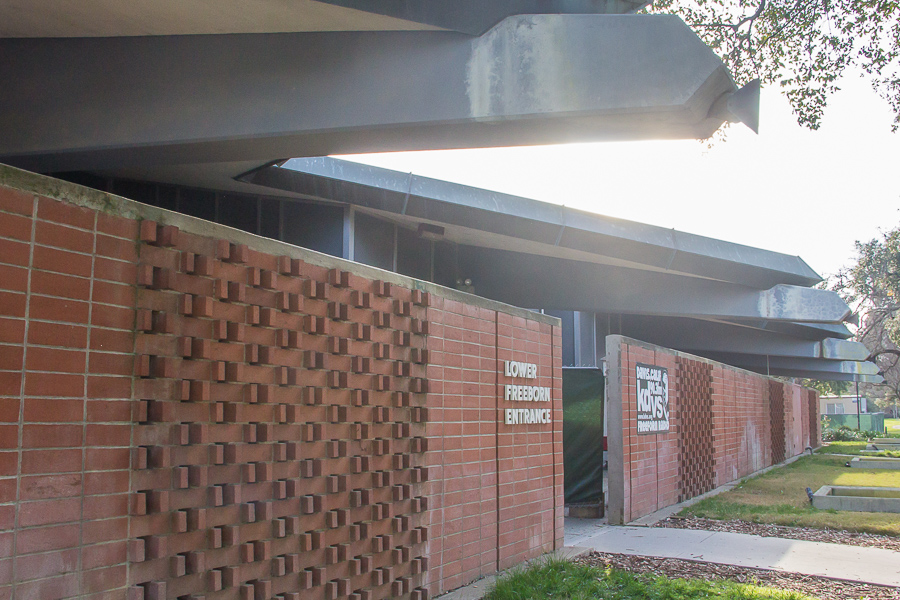 Freeborn to become conference, event venue
Freeborn Hall, which was closed in fall 2014 due to its need for an extensive seismic retrofit, will soon be renovated and used as a conference and event venue. The project also includes seismic fixes, accessibility improvements, renovations and a slight increase in space.
The new hall's main room will seat 1,000 people for speaking events, and 500 people with chairs and tables, setting the record in Yolo County as the largest capacity of any indoor space. Smaller conference rooms and a prep kitchen will be added as well, and all bleacher seating will be removed.
Greg Secor, the project manager for the Freeborn renovation, said the project is beginning its programming phase.
"We are about to begin programming, which is the first step in the design process, where we will work with representatives of students, faculty and staff to determine the needs of the building," Secor said via email.
Martin Marquez, a third-year statistics major, questions the validity Freeborn's renovation into a conference hall and venue, especially considering the lack of lecture room space available on campus.
"I feel like we already have a shortage of lecture hall space, so I don't understand why we need another huge conference room," Marquez said. "Especially since we are taking more and more students because of the 2020 Initiative. We need to be able to accommodate [everyone]."
All classes previously held in Freeborn were moved to Activities and Recreation Center 138. However, Secor and his team are examining the possibility of making Freeborn both a conference venue and lecture hall.
"The building has always been an assembly and event space," Secor said via email. "In the last few years before it closed it also shared use as classroom because lecture hall space was in such high demand. During programming, we will examine the feasibility of continuing share use between events and class."
There are also plans to renovate Lower Freeborn, which is currently being used by student organizations such as KDVS, The California Aggie, Entertainment Council and The Pantry.
"Some renovation will occur in the basement too," Secor said via email. "No plans have been made yet on whether ASUCD units like the Pantry and KDVS will have to be temporarily relocated. The needs for the maintaining a radio station are complex and we will have to study carefully what is in the best interests of the station during construction."
Although never having entered Freeborn Hall while it was open, Christina Chu, a first-year biotechnology major, thinks that the the hall's evolution into a conference venue is a good idea for the campus.
"I think it'd be cool because then we'd have a lot more speakers come and have TedTalk-esque conferences," Chu said. "Also I think it's pretty convenient because there is a parking lot around the area."
Written by: Yvonne Leong — campus@theaggie.org