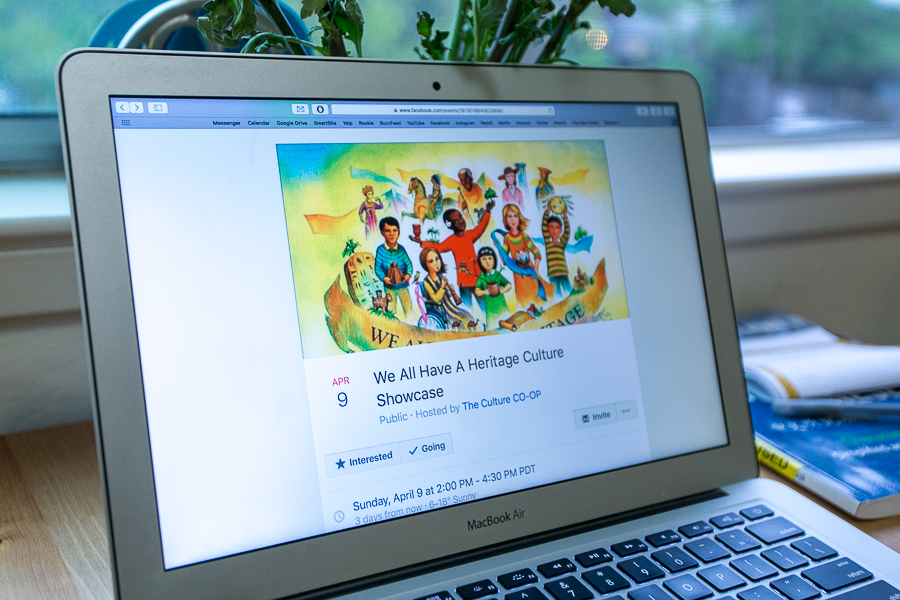 Davis community celebrates diversity
Davis is often recognized as a town with a strong sense of community well-being and resounding harmony, whether it is due to the culturally diverse college-town atmosphere or the physically tight-knit aspect of the city. The Culture Co-op (with "Co-op" standing for "caring, optimistic, open-minded people") understands the importance of learning and respecting people's cultural backgrounds and emphasizes the necessity of stepping out of one's cultural comfort zone.
Sandy Holman, the founder and director of the Culture Co-op, is hosting its second annual "We All Have a Heritage" showcase as an opportunity for Davis residents and people in the area to come together to educate and acquire knowledge about many different heritages and cultures in hopes that they will gain appreciation and love for what makes them diverse. The event will be just as educational as it will be enjoyable and entertaining.
"I call it edutainment because you get entertainment, but you might learn a few things that you didn't know about someone who's different from you too," Holman said. "With all the craziness going on right now in our country, I think we need a time where we can come together with friends in a loving and educational way. I'm very concerned about the current state of affairs, but I'm hopeful because there are people who are out there doing events like the We All Have A Heritage showcase to bring people together."
With the current political atmosphere in the United States, people like Holman realize that now is the best time to promote cultural awareness and spread compassion where it is needed most. She also acknowledges that the very things that make people unique can bring them together, as realizing differences can reveal a sense of similarity among people.
"I've always said that it's important to know about our own cultural identities because when we know about our own, we're not threatened by others that we may not understand or know, and it's so critical where fear is paramount right now," Holman said. "If you choose to live in a bubble and interact with people who only look like you or seem like you, you make yourself more susceptive to stereotypes, manipulation and fear. It is so critical that we all reach out and interact and learn about people who are different from us, because what we'll find is that we actually have a lot of similarities from a humanity standpoint, and the differences that we have are things that can often strengthen us as a society."
Heritage nowadays is an element that appears to be forgotten or even neglected. People sometimes lose their cultural background to assimilate into modern American society, meaning that it is even more important to go back and learn more about the cultural significance of one's heritage.
Maryam Irfan, a fourth-year communication and community and regional development double major and assistant lead for the PR marketing and event planning team at the Culture Co-op, believes that the differences we have in our community present the opportunity to make changes in ways that would not be possible without that diversity.
"Heritage is something that connects us back to the community that we come from and all of the people before us who worked hard to build better lives from us, so we should hold onto that culture people try so hard to pass down, like the customs and values of our heritage," Irfan said. "Cultural diversity is incredibly important because we learn so much from one another and from our differences and opinions and experiences. These experiences allow us to create something that we might not have been able to do without different minds. The more differences, the more opportunity to create something amazing."
Silvia Chen, a third-year design major and the lead team intern for the PR marketing and event planning team, agrees that one of the most rewarding aspects of this event is the chance to give back to the community.
"I feel like we've been working on this so long and it's finally coming together," Chen said. "The most exciting thing for me is to see how it'll play out and how influential it will be on the community because we all have a heritage, just like the name. Heritage is more than just about restoring or preserving. It's more about the tangible things like cultural ideas and memories that are passed on. I feel like it's made up of personality and perspective of life. It's one of the most important things in life."
The showcase is not just an event for people to gather and learn about cultural difference, it is also a fundraiser for an even greater cause.
"We will have edutainment," Holman said. "There will be a lot of fun entertainment and little moments of spoken word of cultural sharing that I think will touch people's hearts. It's also a fundraiser for our non profit, United and Unity. We try to work nationally and especially locally in Northern California with young people to plant a seed of respect for equity, diversity and cultural competency and education. This money allows us to support our We All Have A Heritage campaign, which is more critical now than ever."
The Culture Co-op seeks to use its funds for materials and workshops for youth and to prepare children and families to embrace various cultural identities and heterogeneous communities.
"Our main goal is to showcase diverse talents, so we have a lot of different performers such as a hip-hop and spoken word group performing and a children's dance group performing," Irfan said. "We work with a lot of community organizations, educators and youth of all different ages. We do a lot of anti-bullying programs and our goal is to increase literacy and build appreciation of diversity and we also partner with a lot of teachers and businesses to help with events that promote student success."
Join the Culture Co-op on April 9 from 2 to 4:30 p.m. for its second annual event. Learn more about the campaign here, or visit its Facebook event page to find out more about the showcase.
Written by: Becky Lee — arts@theaggie.org