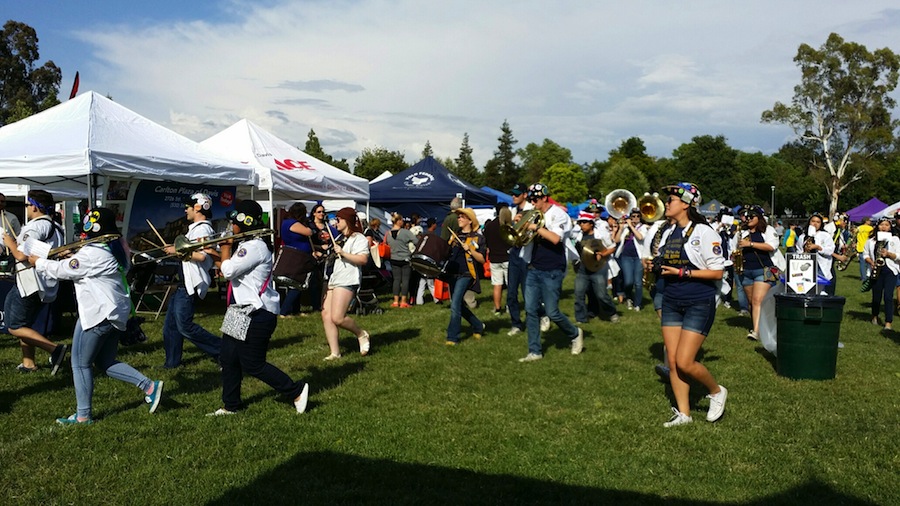 City event brings businesses, residents together with a fun twist
The Davis Chamber of Commerce will host its annual Celebrate Davis on Thursday, May 18, as it successfully continues to support and showcase a significant part of the community: businesses and organizations.
The free festival will take place at the Davis Community Park from 4:30 to 9 p.m. and will finish with a short fireworks show.
"[Celebrate Davis] fits well within our mission of promoting, supporting and advocating the general economic vitality of our membership, and the quality of life for the community," said Christina Blackman, the CEO of the Davis Chamber of Commerce. "It is also a great opportunity to celebrate many of our fantastic businesses and nonprofits. We are striving to educate the community on the importance of celebrating and shopping local."
This year will mark its 15th year as a successful and growing tradition after being ranked second in the Davis Enterprise Reader's Choice 2017 list for Best Community Event.
"This event […] shows off the best our community has to offer," said Bob Bowen,  public relations manager for the City of Davis. "I think it is important that students from all backgrounds get to know the community."
Blackman described the event as family-fun orientated and a perfect opportunity to visit, meet and learn about community businesses and organizations at their booths while enjoying food, drinks and games.
"Most of our entertainment are from local bands or performers, […] we like to keep everything centered around Davis and give as many people as we can an opportunity," Blackman said.
Bowen and Blackman both encourage individuals to come out and support their community, as well as get in touch with its history and progress.
"The history of the [Davis Chambers of Commerce] goes back to 1905 even before the city was incorporated [in 1917], the chamber and several business owners got together and campaigned to bring the university farm school to the Davis community, so that's always been a really important part of what our business model," Blackman said.
Events like Celebrate Davis continue to celebrate the city's success and contribution to the state of California.  
"Here we are 50 years later [on the anniversary] for the bike lane and 100 years later for the city," Bowen said. "[Events] such as Celebrate Davis really celebrate the history of Davis."
Robert Hayes, a long-time Davis resident, looks forward to the event every year.
"Fun and exciting community events like [Celebrate Davis] really represent what Davis stands for and what it means to be a part of a unique city," Hayes said.
Bowen believes that, whether or not students plan to stay in Davis, getting to know the community holds value since they can spread the spirit that keeps the Davis community alive and prospering elsewhere.
Although this event is not specifically targeted to students, Blackman said it is still a great way to get acquainted with the community and it is a perfect opportunity to get involved.  
"We are really lucky to have wonderful members that are dedicated to the community," Blackman said.
Written by: Ray Ruano – city@theaggie.org