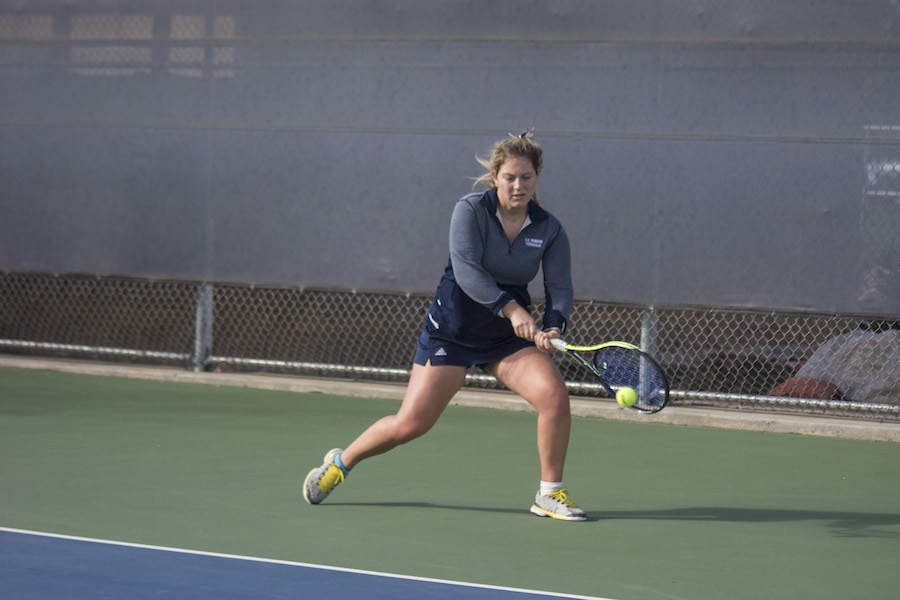 Aggies finish season full of highlights  
Only a few weeks ago, the UC Davis women's tennis team saw its season come to an end with a defeat at the hands of the Long Beach State 49ers at the Big West Conference tournament in Indian Wells, Calif. Despite this earlier-than-desired exit from the conference playoffs, the Aggies are still proud of their overall performance this season and for their future prospects.
Officially, the contest back on April 28 against Long Beach ended in a lopsided 4-0 win for the 49ers, but this scoreline neither reflects how close the unfinished match at the number one doubles spot was nor how well the Aggies played in the three unfinished singles matches. Nevertheless, the 49ers clinched the win in four matches and advanced onward to the semifinals, where they fell to the eventual tournament winners, UC Santa Barbara. The Aggies' quarterfinals loss was frustrating, but, according to assistant coach Sara Jackson, the negative result is nothing to be ashamed of.
"The last two years Santa Barbara has won the conference tournament," Jackson said. "But before that Long Beach won nine out of the previous 10 years, so they know how to win there. Not that it's the same players, but they did have three seniors so they've got people on that team who have won the conference title, and that counts for something."
The Aggies had several bright spots during the season as a whole. UC Davis finished with an overall season record of 15-10, the team's second-highest win total since the program became Division I just 10 seasons ago. A total of five Aggies recorded 10 or more singles wins this season, led by freshman Nikita Pradeep, who won 16 of her matches. The team also had its share of individual accolades, as junior Kristy Jorgensen and sophomore Kelsie Bryant received All-Big West honors for their doubles play this season. The duo won 10 times while facing arguably the toughest competition at the top doubles spot. For head coach Bill Maze, the secret to the season's success was not complicated to explain.
"It was talent — we have a lot talent on this team," Maze said. "And the attitude. They like to work hard, these guys like to work hard. Every coach loves that. They were a pretty tight group. Chemistry-wise it was good. I think it was great this year and we're excited about the following years because even though we lose a couple of seniors, who were great, we still have the core of our team coming back. I mean, I'm ready to play Long Beach right now!"
The team's two graduating seniors, Kamila Kecki and Samantha Martino, both played their final match as an Aggie at the conference tournament, competing together as the third doubles pair in the match against Long Beach. Kecki and Martino are both four-year players who have earned the respect of their coaches and made an impact on the program as a whole.
"I would say that, even starting from their freshman year, their maturity level," Jackson said. "They came in as mature freshman, but have gotten even more so over the last four years. They both were a little bit in and out of the lineup which are the hardest spots to be in on the team and they both did it extremely well. They were always ready to play if we said, 'Hey, you're in today,' and that's hard to find, because that's not an easy position to have on the team, and they have both had that position all four years and they handled it well."
Losing flex-players like Kecki and Martino will no doubt leave changes to be made to the roster for next season. Maze, however, is not particularly worried about a loss of leadership — or talent, for that matter.
"Our three juniors have started every year for us," Maze explained. "They've got tons of experience. They'll be a year older next year and they're good leaders. Jessie Lee leads by example, Kristy and Lani-Rae are more verbal but they really understand what it means to be successful and to be on a team. I do see really good leadership for next year. Kelsie and Bella, we call them our 'solid sophomores' because they are just so solid — not just tennis-wise but personality-wise, they're really down-to-earth people. The freshies — talk about solid tennis players, they were good. It's a good balance in terms of years, and we got a couple of walk-ons coming in who we really like. I'm very excited about next year."
An enormous part of why the program is able to recruit and retain such a steady roster of solid tennis players is due to its success inside the classroom. For the ninth straight year, UC Davis women's tennis received the NCAA's Public Recognition Award for outstanding academic achievement. The team has posted a perfect score of 1,000 each year.
"I don't know how they do it, to be honest," Maze admitted. "I will say, that when I recruit if I feel like somebody's going to struggle — looking at their grades in high school — I don't recruit them. Even if they're a great player, I just know from experience that it's just too tough. We definitely recruit good students, but it's also discipline. People say, 'Bill, what's your system? You got the study hall?' I do nothing, we don't have to."
Jackson shared her thoughts as well.
"They work hard out on the tennis court, but you see it in their studies too," Jackson said. "It's not as in front of us, but we know. We're on the road and they study. They prioritize their academics and we're proud of that fact. It's really nice to have a team that understands yes, they're athletes, but they're students first."
While Maze feels optimistic heading into next season, he acknowledges that success does not come without hard work and dedication in the offseason.
"We can't require that they play over the summer but I think that it's a big part of it, and we're going to encourage them highly to play over the summer, work hard, and again, this team, I don't think you're going to have to do a lot of convincing," Maze said. "We're excited about it. Can't wait."
Written by: Dominic Faria — sports@theaggie.org