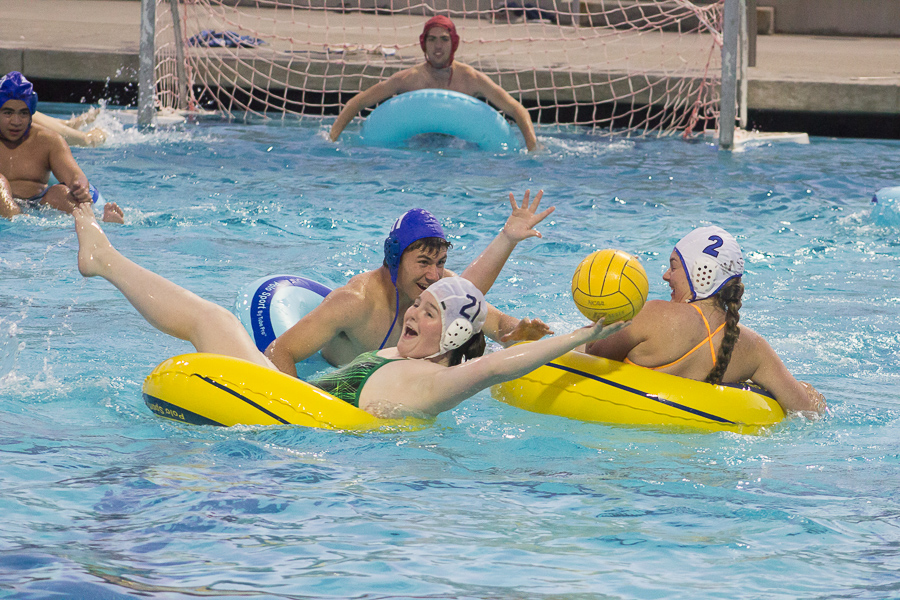 A look into a UC Davis original intramural sport
When it comes to UC Davis intramural sports (IMs), there are a multitude of different options to choose from. The selection of sports varies from quarter to quarter, offering a diverse selection of games and competition levels as to satisfy nearly anyone's athletic interests. Many are simply recreational versions of more traditional sports, such as eight-on-eight soccer, flag football and grass volleyball. On the intramural schedule for Spring Quarter, however, there is one sport that is unique from the rest: tube water polo.
It's traditional water polo with a fun twist geared for the more casual sportsman. Instead of requiring players to keep themselves afloat, tube polo eliminates the arduous work of treading water by allowing participants to float atop inflatable inner tubes. Much of the rest is the same. The game still uses a water polo ball that can be passed back and forth between teammates, there are goalkeepers and the goal of the game is identical: score as many times as possible.
Tube polo was invented at UC Davis as an intramural sport. The late Gary Colberg, longtime associate athletics director of UC Davis intramural and club sports, is credited with inventing tube polo back in 1969 as a way for students with little water polo experience to play a less physically demanding version of the game.
On the surface, tube polo may seem simple and even relaxing by nature, but make no mistake — there is still plenty of difficulty involved.
"I've done sports in the past, but nothing aquatic," said Ingrid Hernandez, a third-year microbiology major. "[Tube polo] is much harder than anything I've done. It's harder to move, it's harder to go fast, you have to plan everything when you're playing."
While the inner tubes allow an escape from physical exertion, they make it much more difficult to maneuver oneself in the field of play. Players must balance themselves on the tubes and use mainly their arms to row themselves in any direction or to spin themselves around. This makes it slightly harder to manufacture quick movements across the water or to place oneself in the correct place to receive a pass.
But the surprising difficulty of tube polo is what creates the silliness involved in playing. The amusement brought by watching someone struggle to move while floating on a tiny tube, combined with rising Spring Quarter temperatures and the draw of competition, is what attracts many UC Davis students to the sport.
"This is actually my first time playing tube polo," said Daniel Arreola, a fourth-year political science and history double major. "I played IM soccer my freshman year. Tube polo I guess is a lot more difficult for me because I don't have any experience with water polo or anything like that before. But it's really fun learning the sport — it's a lot like soccer."
Tube polo is a simple, fun, yet competitive game open for almost anyone to play. Didn't get the chance to play this quarter? Be on the lookout for team sign-ups come next spring. For those interested in viewing tube polo, games are played every Sunday, Tuesday, and Thursday evenings at Schaal Aquatics Center up until the championship games on June 8.
Written by: Dominic Faria — sports@theaggie.org