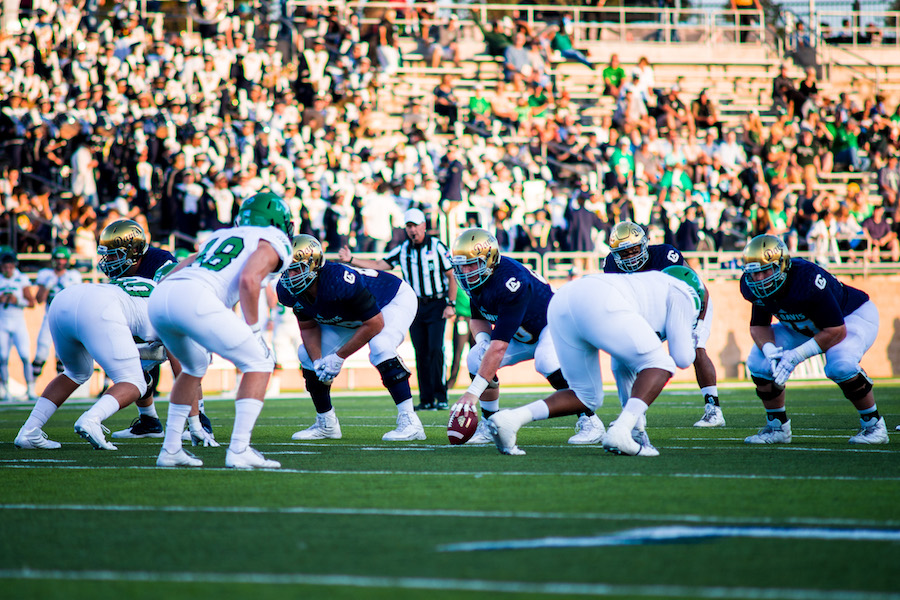 UC Davis football routs North Dakota for team's third win
The UC Davis football team took a beating at the hands of Weber State last weekend in Utah, but on Saturday night the Aggies dished out a little punishment of their own, doubling up the North Dakota Fighting Hawks, 48-24 en route to the team's first conference win of the season.
The Aggies put on an offensive clinic from the outset, with the game once again dominated by the duo of sophomore quarterback Jake Maier and junior wideout Keelan Doss. The pair connected 11 times for a season high 199 yards through the air. Similar to previous outings, Maier wasted no time getting the ball in Doss' capable hands; on the Aggies' first play from scrimmage the two found each other on a 49 yard pass that ignited the crowd. The drive was later finished off by junior quarterback CJ Spencer, who punched the ball in the end zone on a designed run to put the Aggies up 7-0.
North Dakota responded with an explosive 81 yard run to even the game on its next possession. But the Aggies were poised to answer right back, scoring on the first play of their next drive. Maier delivered a strike to Doss, who managed to gain some impressive separation from his defender on a deep post route. Doss sprinted the 65 yards to the end zone on just his second reception to put the Aggies back on top 14-7.
"As soon as we called [the deep post route] I'm like, 'I'm going to set [the defender] up with a little move.'" Doss said. "It's something we saw on film. We knew [North Dakota] liked to play quarters on defense, so there's no real post defender in the middle to stop the post route."
After allowing that first North Dakota touchdown, the UC Davis defense tightened its focus. Junior defensive back Vincent White had the first of his several pass break ups on the ensuing North Dakota possession, saving a likely touchdown and forcing a North Dakota punt. The stop allowed the Aggies to capitalize on their next drive that covered 89 yards on 11 plays. Just three yards from the goal line, Maier lofted a perfect pass to sophomore tight end Wesley Preece, who hauled the ball in on a quick fade route. This score would be first of many for Preece on the evening.
A North Dakota field goal made it a 21-10 ballgame heading into the second quarter, and with the ball back in their possession again, the Fighting Hawks had a chance to cut the game to one score. Things looked promising for North Dakota after its running back, John Santiago, broke off a run of over 30 yards. It was White, however, who again came up big for the UC Davis defense, stripping the ball from Santiago and allowing his Aggie teammates to fall onto it. The strip by White swung all the momentum back to UC Davis, as senior running back Justin Williams found the end zone for the Aggies five plays later on a two yard scamper.
"We as a defense always have that 'next play' mentality," Culberson said. "They can hit us for 99 yards down the field any given play — next play, next play. We can't let what affected us change our mood and change the momentum of the game. [White] was way back behind the play, but we practice how we play. Our coaches do a great job of getting on our butts all week through practice; 'Hey finish the play, finish the play. You never know when it's over.'"
With the half not even over at this point, UC Davis cashed in yet again on its next possession. Maier rolled right and delivered the ball to an open Preece, who caught the ball and quickly extended it past the pylon for a 15-yard touchdown. Preece's second score extended the Aggies' lead to 25, but after another North Dakota touchdown and a field goal by sophomore kicker Max O'Rourke, UC Davis headed into the half up 38-17.
"We've been running that play through practice all week," Preece said. "Usually during practice it went to the tailback in the flat, so I ran my route thinking it was just going to go there. But when I saw the safety come down when I ran my route, I was wide open. I turned around and said, 'It's coming to me, it's coming to me.' [Maier] threw it right out in front, I caught it and turned around and stuck the ball out because I knew I was going to get that thing in."
In the first half alone, UC Davis had amassed an incredible 421 yards of total offense; a total which Maier and company were able to build upon in the second frame. A nine-play, 61 yard drive set up a second O'Rourke field goal early in the third quarter. This drive was then followed by a 12 play Aggie drive that ended in a fumble near the goal line. But on the very next play, senior defensive back Keleen Culberson was expecting the Fighting Hawks to take a shot deep and was there to snag an interception near the left sideline to give the ball right back to the Aggies.
"I was in the mindset, 'hey, here they come,'" Culberson said. "They're gonna hit a deep pass on us, let me go get it back to our offense. Fortunately it played out exactly how I thought it would [go]."
With plenty of time still remaining, UC Davis stuck to its firepower to protect its lead. After Culberson's interception, Maier zipped a 20 yard pass through a tight window to connect with Preece for his third touchdown of the night. Early in the fourth quarter, the Aggies now led 48-17 and would play the remainder of the game on cruise control.
North Dakota, despite adding in one final touchdown and finishing the game with two 100-yard rushers, could not find enough scoring to keep pace with the UC Davis attack. Preece had a career outing with three touchdowns on eight catches for 97 yards. Maier also recorded a career-high of 415 yards through the air — the most by a UC Davis quarterback since the team moved to the Big Sky Conference — while completing 87% of his passes for four touchdowns. Williams also added in 100 all-purpose yards. When all was said and done, UC Davis had a prolific night, tallying a whopping 651 yards of total offense.
"We were confident in the plan going into tonight, definitely," Maier said. "We feel, as an offense, that the only thing that can stop us is ourself. We expect to move the ball and make plays. The plan is set up for us to be very successful and that credit goes to our coaches and our guys for executing — our offensive line played awesome tonight, our running backs hit the holes hard, our receivers were great with the ball in their hands. Tonight my job was easy when guys are stepping up like that and the play calling obviously was tremendous."
Aided by the UC Davis students, the crowd came out in droves for the win, as the attendance Saturday neared ten thousand. To be sure you are not missing any moments from this football season, make sure to come out next weekend when UC Davis take on Eastern Washington at Aggie Stadium. Kickoff is set for 6 p.m. on Saturday.
Written by: Dominic Faria — sports@theaggie.org