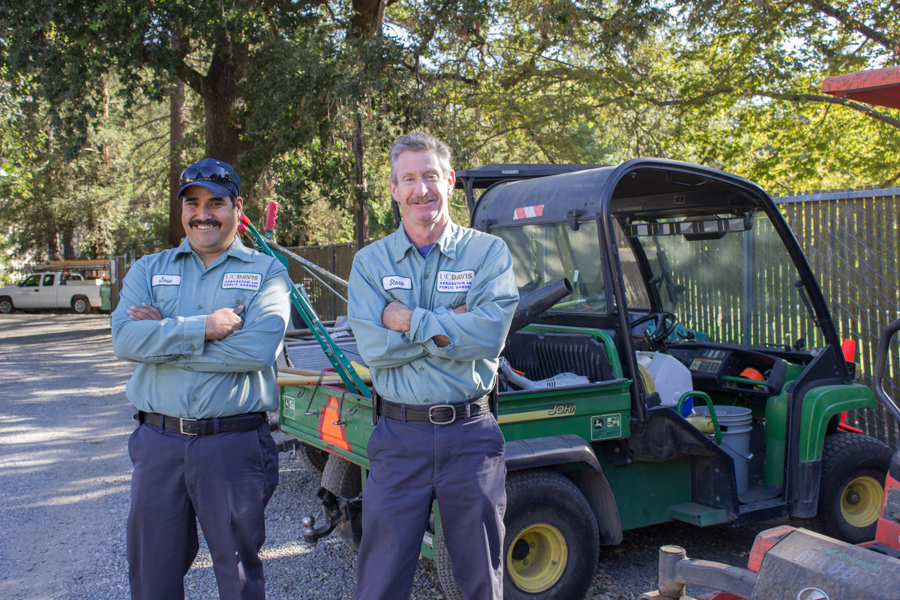 A behind-the-scenes look at crewmembers responsible for UC Davis grounds, landscapes
A bike ride from Shields Library to Hunt Hall is not too far in distance, but the breadth of natural beauty along the way seems endless. Massive oaks and vibrant lawns line the bike path, and not just on this particular journey, but all over campus.
UC Davis is known for the cozy comfort evoked by the presence of such well-kept nature on its campus, a characteristic feature of the university despite it being the largest UC campus by acreage. And it's the people behind the scenes who we can thank for that: UC Davis Grounds and Landscape Services.
"We're at 62 [workers] currently as we speak," said Tyson Mantor, the grounds superintendent. "We are responsible for the landscaped areas on campus and some outlying country areas. It comes up to upwards of 700 acres on the central bit of campus that are landscaped and highly maintained, but to include the other sites around campus, it comes out to about 1,000 acres that we maintain. It's a lot of space, and with the number of employees I just listed, it's kind of remarkable."
As a Davis alumnus, Mantor has seen the grounds crew blossom into one of the most successful in the landscape industry since he joined after his graduation. Since it began in the 1940s, the landscape department has seen a number of positive changes that have allowed it to become an exemplary leader of landscape management across the state — even the nation.
"This [year] is now the second time we've got a four-star accreditation with the Professional Grounds Management Society," said Matt Forrest, a grounds supervisor who has worked on campus for nearly 30 years. "We were the first one to get it, so it's an honor to be a part of that."
Although there's no official mission statement for sustainability measures, Mantor points out that sustainability is pushed culturally throughout the department and the school. The department has largely switched to utilizing compost on campus grounds, as well as using organic fertilizers and fungicides, subsequently reducing synthetic inputs by about 75 percent over the last three years alone.
"We know that we're looked at as an example in the industry for sports turf, landscape maintenance [and] irrigation management, so we feel very happy to be a part of that," Forrest said. "We try to bring our level up to a very high professional level, not only technically, but also [by] being open minded and better about our sustainability practices."
The grounds crew is not only responsible for spaces popularly occupied by students, such as the Quad, but also for the athletic fields. Now that UC Davis is a Division I school, Kore Higuchi, Davis' sports turf manager, is tasked with meeting the high demand of keeping these landscapes up to par.
"My crew [is] responsible for roughly 78 acres on campus between all the campus [recreation], intramural clubs and athletics," Higuchi said. "With the drought we went through, I was challenged with trying to meet reductions in water. With that [we] took the opportunity to assess the conditions on all of our fields, and tried to reduce the amount of synthetic inputs [such as] the fertilizers, the fungicides [and] the chemical-type things."
According to Higuchi, every day is a new challenge. Expanded student enrollment over the past few years has increased demands on all aspects of the job. Nonetheless, Higuchi is the best man for the job, having an appreciation and understanding for the problem-solving required in his work, especially in light of Davis' upward climb in the realm of sports success.
"You know you watch professional sporting events and everybody watches the players, but if I turn the TV on I'm looking at everybody else's field, knowing the amount of work that goes into doing that," Higuchi said. "It is a huge part of that small piece that enables others to do what they do well, that's what I really enjoy."
Something Higuchi, Mantor and Forrest all have in common is a desire to do stimulating work in such a great environment that is also visually beautiful, and that is something they experience here at UC Davis.
"I get satisfaction out of doing work with my hands and getting things done," Forrest said. "Our jobs change every day, hour by hour, we have to react to different conditions. So I think I enjoy the challenge but also realize that we get to work in a pretty darn nice environment, in a park-like setting in a community of a campus that is proactive. Being part of that campus in all that we do is a benefit for me personally, and I hope that I can share my gifts and my benefits and help the campus too."
The draw for many students and employees to this campus is its stunning landscape, one that seems so perfectly natural to this historic little town, but takes a great deal of effort and hard work to maintain.
There's a lot to be proud of as Aggies, but there is always room to appreciate even more those who work so hard to maintain this beautiful living space.
"If your first impression when you walk onto a campus, whether you be a potential student or you be a potential faculty member that they're trying to recruit, if [ the grounds crew] can make that first impression for potential customers, that's huge," Mantor said. "If we can be that draw, be that reason why people come here, you can't do much better than that."
Written by: Marlys Jeane — features@theaggie.org