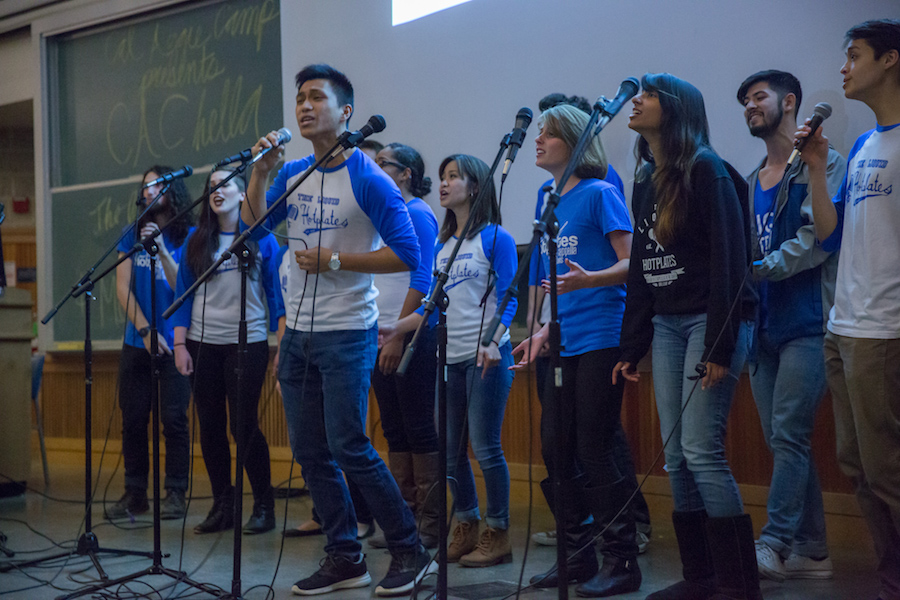 The Liquid Hotplates host annual a cappella show
With Fall Quarter coming to a close, a cappella group The Liquid Hotplates will once again host its annual Alottacappella event on Dec. 2 at 8 p.m. The show will feature other on-campus groups including The Spokes, The Lounge Lizards, The Afterglow, Cleftomaniacs, Levels of Vocal Expression, Cloud 9 A Cappella, Acquire and GGN.
Brendan Caskey, a third-year genetics major, is performing in the show with the oldest a cappella group on campus, The Lounge Lizards. According to Caskey, there seems to be an unspoken rule in the a cappella world that original music should not be the central focus; however, there is a variety of genres that the group performs.
"In the future we might have originals. As for now, most of our repertoire is pop, rock, R&B and a little bit of rap and country," Caskey said.
Kiersten Allison, a fourth-year animal science major and member of The Liquid Hotplates, believes that covers aren't necessarily limitations on musical creativity. The group always takes its own twists to the songs. The most important part of being in an a cappella group like The Liquid Hotplates is the shared love of music.
"Everyone here comes from a musical background, but it's all different," Allison said. "Some people are more familiar with playing instruments, and others sing well but can't read music. There are so many talents in the a cappella scene. We're not really competitive with each other. It's really just one big community of singers [who] help each other out."
Anikka Altura, a fourth-year food science major in the newer a cappella group Cleftomaniacs, also loves the community and musical aspects of a cappella culture. Like The Lounge Lizards and The Liquid Hotplates, Cleftomaniacs also has a lot to offer in the upcoming show.
"Music is a very large part of our lives, and we invest a lot of time in the music, but we also invest a lot of time in each other," Altura said. "We've been preparing this show since the beginning of the quarter for about four hours a week. You'll see a lot of pop and R&B and something a little unexpected as well. It's our first show of the year, and we want to show people how hard we've been working on our music and to just have a lot of fun."
Through months of practice and involvement in Cleftomaniacs, Altura has realized that the biggest obstacle in a cappella music is also its greatest beauty: it requires many people and many voices. It brings everyone together and makes each session a little different.
"A cappella isn't going to be the same every time because at the end of the day, we're all people singing," Altura said. "We're all going to make new mistakes each time, and we work to minimize that by working cohesively, but there is a variability that happens in acappella."
Allison predicts the show will be 'a lotta' fun for the audience.
"We'll have some pretty funny MCs for sure, and all of the groups are incredibly talented and it's not something you want to miss. It's also going to be cool to see the Sciences Lecture Hall transform into a concert venue," Allison said.
Tickets for the event are $8 presale and $12 at the door. Tabling for tickets and information will take place at the Memorial Union from 10 a.m. to 2 p.m.
Written by: Becky Lee — arts@theaggie.org