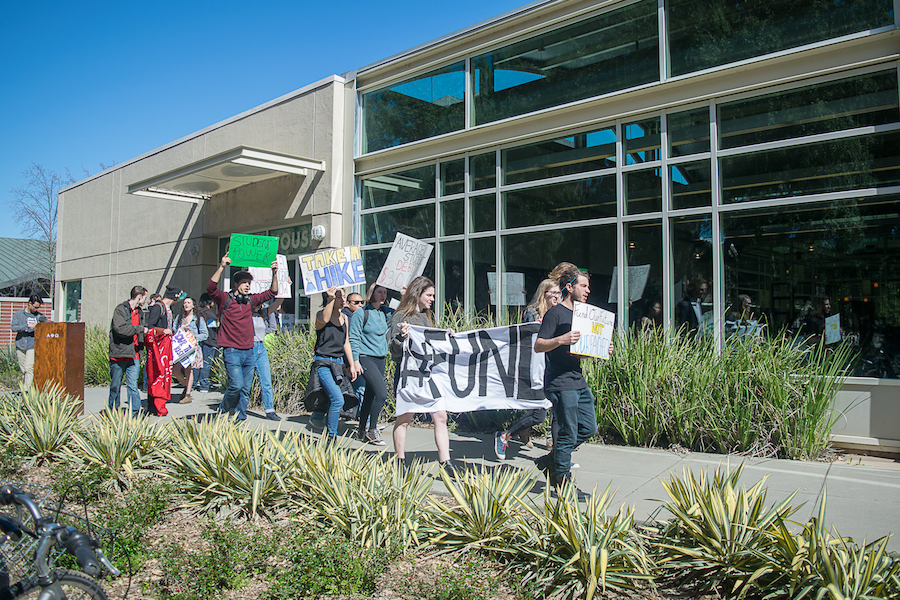 Proposed increase of $342 for in-state, $978 for out-of-state students
On Jan. 24 and 25, the University of California Board of Regents will meet and vote on a proposed increase to tuition costs and Student Services Fees. According to the Los Angeles Times, there could be a 2.7 percent increase for in-state students — an additional $342 for a total tuition cost of $12,972 — and an additional cost of $978 for non-resident students for a total tuition cost of $28,992, if approved.
These increases would be effective in the 2018-19 school year and mark the second consecutive tuition hike.
According to a summary of the budget plan, UC officials said they would use the additional funds for expanded financial aid, mental health services, technology upgrades, graduate fellowships and additional courses amid an increase in applicants.
The increased fees would result in an additional $137 million in funds. Critics are urging the UC Regents to collaborate with students in encouraging Governor Jerry Brown and the California State Legislature to subsidize and fund the UC rather than unloading this financial burden on students.
Low-income students and historically marginalized communities are disproportionately affected by growing debt. According to an article from The Washington Post, four out of five black graduate students take out loans for college, while less than two-thirds of white students will have accumulated debt. Nationally, college tuition has been raising at a rate six percent higher than the economic inflation.
Dexter Hampton, a second-year sustainable agricultural major, is the president of Students for a Democratic Society, a student advocacy club on campus that strives to dismantle institutional greed and discrimination. He spoke about how low-income students like him are continuously obstructed from accessing higher education due to climbing costs.
"Unfortunately, as an out of state student, my dream of fighting climate change [when I first came to UC Davis] has been turned into a sacrifice of my financial well being," Hampton said via email. "By the time that I graduate, I will be over [$]100,000 in debt. I've managed to narrowly avoid homelessness by renting a literal closet to sleep in."
Hampton said other students like him have faced financial and housing insecurity while administrative salaries steadily inflate.
"Meanwhile, our chancellor Gary May [who] has a fully staffed mansion is payed five times more annually than the entirety of my student loans," Hampton said. "The university didn't always cost this much, but the huge increases to size and pay of the administration comes at huge cost to students like me. I'm sick and tired of this blatant corruption."
Students for a Democratic Society sent a statement regarding a rally that will take place on Jan. 23 at 11:50 a.m. to The California Aggie. The club said it is committed to fighting the growing student financial burden with student activism and recognize how raising costs prevents access to higher education.
"Each time the tuition is raised, there are more students and workers who can't afford housing, more students and workers who have to cut down on their meals, and more students who are forced to drop out because of financial problems," the statement said. "Marginalized students struggle to find resources and representation as funding cuts gut the cross cultural center. In the UC system 42 percent of students and 70 percent of workers say they have low or very low food security and yet tuition continues to rise. Tuition needs to be rolled back, the outrageous salaries of the administrators needs to be redistributed to our critically underpaid staff and faculty, and our university needs to be restructured to put students and workers that run the university in charge, rather than the unelected billionaires and CEOs on the board of regents."
According to the LA Times article, Gov. Brown opposes any hike in tuition and some UC Regents have asked that the vote be delayed. Brown has proposed an increase in UC funding by three percent for the 2018-19 year.
Stephanie Beechem, a spokesperson for the UC Office of the President, responded to Gov. Brown's education budget plan, mentioning the cut in expected funding from a 4 percent increase to a 3 percent increase for the 2018-19 year. According to the UCOP, tuition increases are required to support increased enrollment and financial aid will protect most in-state undergraduates. The expected fate of out-of-state students is not addressed in the statement.
"UC today educates more California students than ever, a commitment we have maintained through severe cuts in state funding and a six-year tuition freeze," Beechem said via email. "While UC is pleased that Governor Brown's preliminary 2018-19 budget proposal provides a funding increase to our core educational budget, it is less than the amount outlined in a multi-year framework established with the governor in 2015, which anticipated modest, predictable increases roughly tied to the inflation rate. The proposed adjustment is less than the rate of inflation and because of financial aid, most California undergraduates will not have to pay it. The campuses have asked for this increase because they need it at a time when California undergraduate enrollment is at an all-time high. Additional revenues will go toward maintaining UC's academic excellence through more faculty, additional courses, better technology, improved student services and other campus-tailored priorities."
Wrriten by: Aaron Liss — campus@theaggie.org