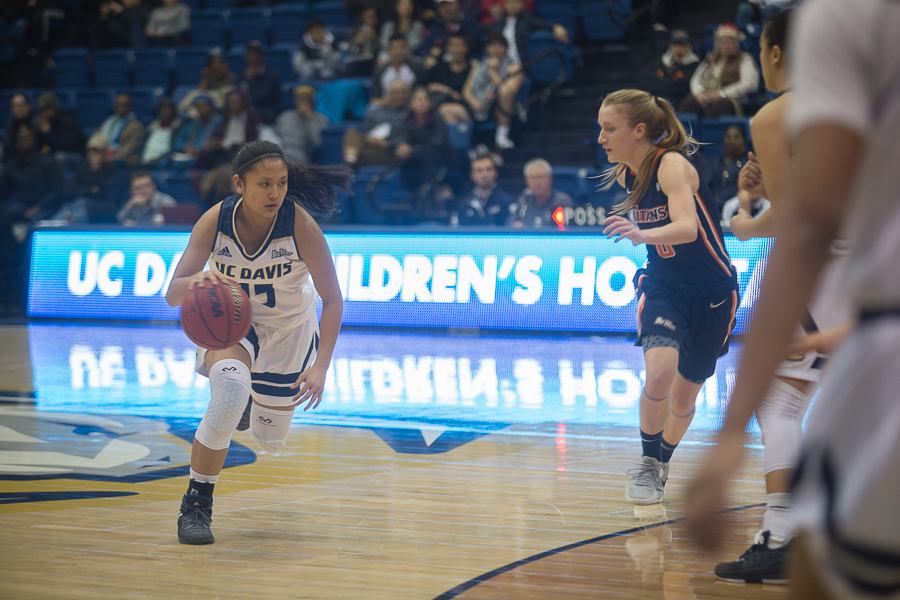 UC Davis women's basketball defended winning streak against Titans, Gauchos
The UC Davis women's basketball team is now 7-0 in the Big West Conference after a 67-53 victory over Cal State Fullerton on Wednesday Jan 24 and a 69-63 win over UC Santa Barbara on Saturday Jan. 27. These wins also brought the Aggies their 17th consecutive Big West Conference regular season victory. The Aggies entered the Pavilion coming off a 80-76 win over Cal Poly. Their last matchup against the Cal State Fullerton Titans was almost exactly a year prior, where they won 59-39.
On Wednesday, redshirt junior forward Morgan Bertsch had her 10th 20-point game of the year, finishing with a game-high 23 points. Bertsch's four blocks also brought her career total to 123, placing her at third on the program's all-time block list.
"A lot of the teams in the past throughout conference in the first five games have been very lurky, have been doubling, have been making sure that when I put the ball on the ground, they have their hands in there trying to tip it away," Bertsch said. "But today, the key was pretty open for me, which was a nice change […] I had more space and didn't have to worry about second defenders."
The competition didn't let up on the Aggies. At halftime, the Titans only trailed by five, with a score of 33-27, and with 2:33 remaining in the third quarter, were only three points away from breaking even with the Aggies.
"They're a much-improved team, they are well-coached, they have really good energy about them," said Head Coach Jennifer Gross. "They play really hard. We knew that coming in, that we were going to have to beat them, that we were going to have to fight for this one. They showed their resolve, but we showed ours as well."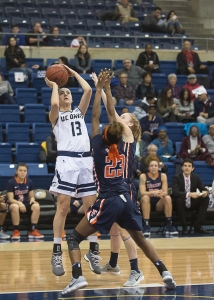 Senior forward Pele Gianotti finished the night with 21 points, making the game her first 20-point game of the season. Gianotti scored her 1000th career point last week on the road against UC Santa Barbara on Jan. 18, and this game lifted her total to 1040.
"She's such a force. She has such good fundamentals," Bertsch said of her teammate Gianotti. "[She is] pretty unstoppable, even when you're guarding her in practice. You're like 'Oh, gosh,' because you have to worry about her 3-point shooting and then she's a real good driver."
On Saturday, the first game of a double-header at the Pavilion, the Aggies won 69-63 over the UC Santa Barbara Gauchos. The Gauchos proved to be a tougher opponent than the Titans.  
Trailing at the halftime buzzer and only leading only by one point at the end of the third period, the Aggies rallied in the fourth quarter to secure their win.
The Aggies hit the road next week to defend their winning streak against Long Beach State and Cal State Northridge on Feb. 1 and Feb. 3.
Written by: Liz Jacobson — sports@theaggie.org