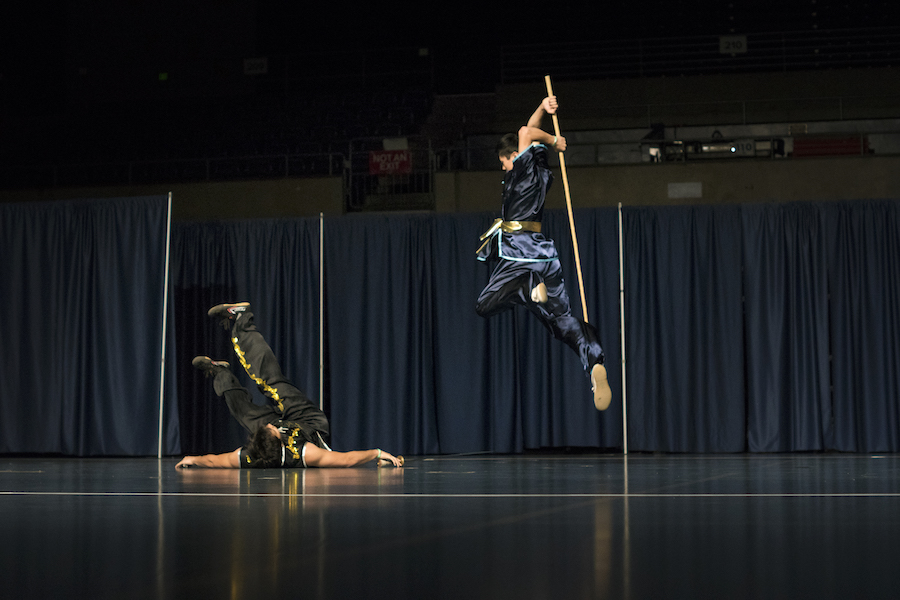 Davis Wushu hosts dance showcase to help mothers with postpartum depression
The expectation for new mothers is to be overjoyed by parenthood, but for many women, the unfortunate reality is suffering from postpartum depression. Davis Wushu, a Chinese martial arts dance group on campus, is hosting its first charity show to raise money for CONNECTED Clinic, with funds dedicated to breaking the stigma of maternity-related mental illnesses.
Emily Eijansantos, a fourth-year neurobiology, physiology, and behavior major, is currently in her third year with Wushu. She recognizes the lack of awareness surrounding mental health for pregnant and postpartum women.
"We were talking about the showcase and weren't sure which cause we'd be doing it for, but we shared personal experiences between ourselves about women's mental health, and it brought the topic of women's mental health," Eijansantos said. "I got to talk to a few moms that have experienced postpartum depression and realized that a lot of people disregard these symptoms. It's viewed that mothers shouldn't worry about their own mental health because they have someone else to take care of now and they should be excited."
In fear of poor mental health becoming a reflection of bad parenting, mothers with depression and anxiety oftentimes ignore these symptoms. Wushu reached out to CONNECTED Clinic, which provides medical and psychiatric assistance for pregnant and postpartum women. There are few resources in the Sacramento area for maternal mental health, and the clinic provides education to break mental health and medication stigma.
"[CONNECTED Clinic] is a place where women can talk about their mental health but also talk about medication and actively seek help without harsh judgement, so they can become better mothers and the secure attachment they need to be for their child," Eijansantos said.
Wushu incorporates traditional Chinese martial arts into its performances, hoping to bring the artform to light and raise further awareness on mental health after this show.
"We want to encourage more conversations about mental health that I think are really ignored, and another thing we should always try to do is expose traditional culture to people who haven't seen it before. Sometime media portray martial arts in a way we don't agree with, and we hope that we can bring more authenticity in our choreographs as well," Eijansantos said.
Wushu is performing collaboratively with other campus dance groups: Davis Chinese Dance, Na Keiki 'O Hawai'i, Unbound Dance Progression, SoNE1 and Elite Dance Company.
Zona Jin, a third-year clinical nutrition major, is participating in the showcase with Davis Chinese Dance, which won third place in the traditional category for the 2017 Davis Dance Revolution. Established in 2012, Davis Chinese Dance has taken a few years' break and is now back and performing again. Jin believes dance is an expressive medium that can be used to reflect onto the audience.
"We've been putting a lot of effort into the practice, and we're treating this performance the same way as we did with DDR. We even had someone who flew to China and brought back new costumes for the show. One of our missions is to spread the Chinese culture and to show the world how elegant Chinese dance is," Jin said.
Recently, 27-year-old K-pop star Kim Jong-hyun, from the well-renowned group SHINee, committed suicide, raising questions on mental health in the K-pop industry. The Davis K-pop dance group SoNE1, also participating in the showcase, took the news to heart and continues to take mental health seriously with their own members.
Isabel Jones, a UC Davis linguistics alumna and the artistic director of SoNE1, which will also perform at Wushu's event, acknowledged the importance of supporting the team's wellbeing.
"A famous band member in the K-pop world recently committed suicide, and that left a big impact on us. We had to deal with that for a little bit and try to create a welcoming environment for everyone. While we aren't too familiar with postpartum depression just because we aren't mothers, we do think we can relate to anxiety, and we try to facilitate a supportive environment for the team," Jones said.
SoNE1 has been working hard to bring in its talents, incorporating original content and breaking barriers.
"We're becoming more a part of the Davis dance community as a recognized team, so we wanted to bring in original choreography and show what we're able to do as opposed to the usual K-pop team dynamic and reapplying kpop music videos in our performances," Jones said.
The showcase will be held on Feb. 3 at 9 p.m. at the Veterans Memorial Center. RSVP on the Aggie Life event page.
Written by: Becky Lee — arts@theaggie.org