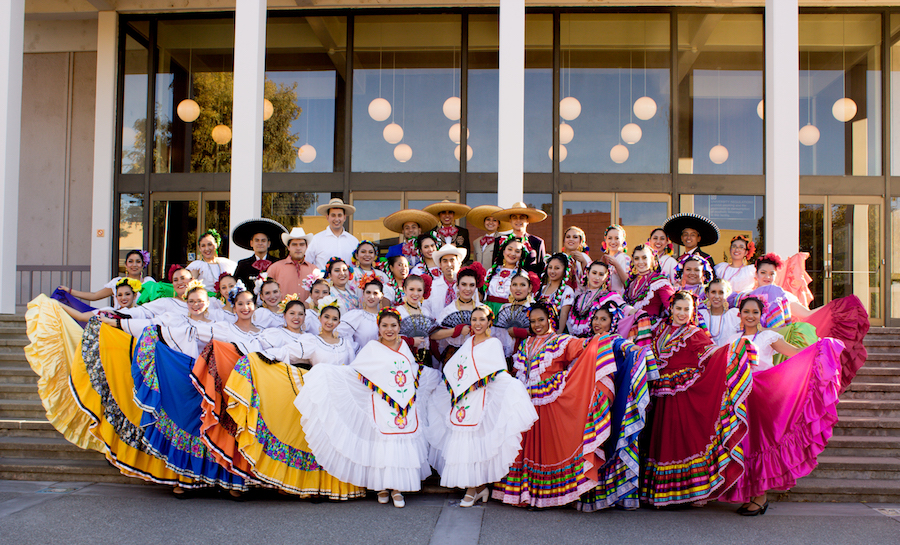 Festivities showcase vibrant Chicanx/Latinx community
On April 28, the Cross Cultural Center will be hosting a cultural day for the Chicanx/Latinx community through an event called La Gran Tardeada. Taking place on the Quad from 11 a.m. to 6 p.m., La Gran Tardeada is an opportunity for the Chicanx/Latinx community to feel celebrated and come together to enjoy food, music, vendors and dance performances.
Crystal Romero, a fourth-year mathematics and Spanish double major, described via email how the origins behind every cultural day hosted by the Cross Cultural Center are different. For the Chicanx/Latinx community specifically, she discussed how it got started.
"[…] La Gran Tardeada initiated as a response for the need of increased representation and retention of Latinx students on campus," Romero said. "It is a historic celebration where community members gather to celebrate their identities and culture."
Romero continued on to discuss the theme of this year's Gran Tardeada, chosen by the planning committee.
"This year our theme is 'Together We Thrive, Keeping Our Roots Alive,'" Romero said. "We decided on this because it signifies that, even though there are many identities within the Chi/Lat community, when we express solidarity with each other, we thrive together."
Carlos Leal, a fourth-year human development and Spanish double major, also explained his take on the theme while tying in the official graphic art for the event.
"What [the theme] entails is how we want to encompass the beauty and resilience of the larger Latinx community, with the flower and plant imagery expressing our appreciation for nature, our roots and our ancestors as we thrive."
Both Leal and Romero decided to become co-coordinators of this event for different but ultimately similar reasons. For Leal, it's because La Gran Tardeada is able to bring communities together in a positive way. For Romero, it's because she sought to be involved with not only the UC Davis community, but the Chicanx/Latinx community as well.
Romero said that students should attend this event because it would be a fun "de-stresser" and a "big celebration of Latinidad." Leal highlighted the ability of La Gran Tardeada to make students feel welcomed and wholesomely represented.
"We wanted to affirm how, within the Chicanx/Latinx community, oftentimes the Mexican narrative takes precedent. Therefore, we wanted to include performances that highlight our diverse identities within the community," Leal said. "It can be difficult for students of color and Queer Latinx to find community on-campus, and we want attendees to feel at home surrounded by fellow community."
Given the current political climate and state of the world, Leal addressed the importance of events like these even happening.
"Like the fellow Quad events PowWow (for the Native/Indigenous community), Black Family Day and Asian Pacific Culture Night, La Gran Tardeada is still a powerful event, especially in a time period that these communities are under attack and we must be more visible and united than ever."
Romero first experienced La Gran Tardeada when she performed with her dance group, Danzantes del Alma. She explained how surprised she was at the community turnout and how these types of events can really impact people.
"I think it's important that events like these at UC Davis continue to happen because it lets students who might not feel like they fully belong on a big campus like ours celebrate their culture and their identities," Romero said. "Just being around a big group of people all gathered to celebrate the day with each other can be a really empowering experience."
She's excited to see Los Nuevos de Teran, a performance group featuring a UC Davis custodial worker.
"[…] one of the performers I'm most excited to have is Hilario," Romero said. "For those of y'all who don't know, Hilario works as a janitor here on campus in Hart Hall and Everson. Him and his brothers all form part of a band called Los Nuevos de Teran, and we were able to book them for this year."
Pita Piña, a second-year human development major, is looking forward to the dance performances as well as the really good food (notably the tortas, tacos and chicharones) which she recalls from attending the event last year.
"I'm really excited to see la danza azteca," Piña said. "It's so beautiful to see what our ancestors used to do in terms of rituals. I just love watching them."
Written by: Cecilia Morales — arts@theaggie.org