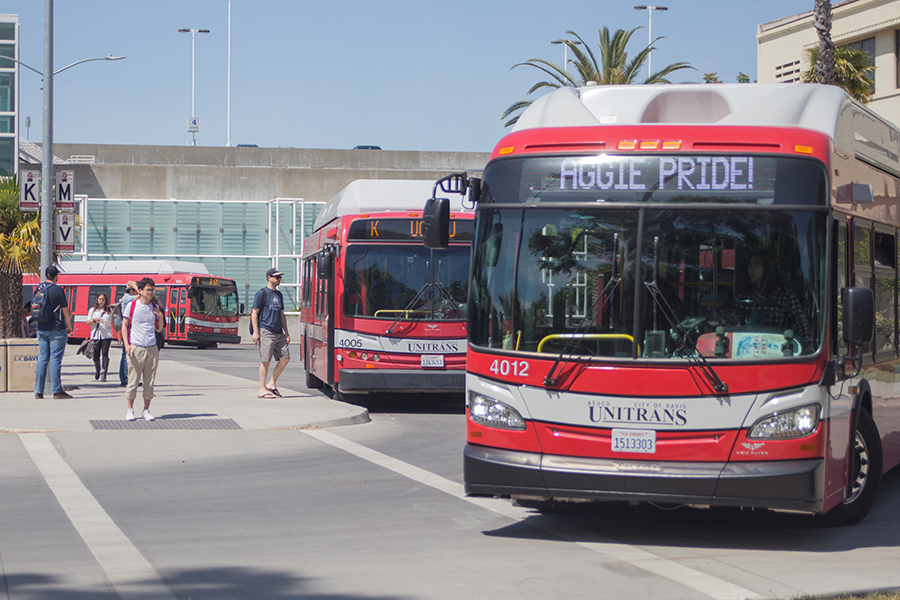 Unitrans currently running $450,000 deficit, projected $750,000 next fiscal year if no changes made
On March 29, 2018, the ASUCD Unitrans bus system proposed its first increase in fare rates in 14 years in addition to various service adjustments to promote a more efficient bussing system.
In a press release sent to The California Aggie, the timeline of the fare increase was described as follows: "Davis' two local public transit systems, Unitrans and Davis Community Transit, are proposing to raise fares July 1 — the first increases in 14 years for Unitrans and nine years for DCT."
Unitrans general manager Jeff Flynn explained the budgetary necessity behind the adjustment and cancellation of bus lines.
"Unitrans is currently operating in an annual budget deficit," Flynn said. "Operating costs are rising significantly due to the annual $1 increase in the California minimum wage. Unitrans currently employs a mostly part-time UCD undergraduate workforce with wages at or near minimum wage. With every annual dollar increase, our costs increase."
Flynn projects major deficits if no changes are made.
"Unitrans is currently running a $450,000 deficit for fiscal year 2018 and is projected to have a $750,000 deficit next year if no action is taken," Flynn said. "Unitrans has approximately $1.5 million in reserves; however, this reserve will not last long with costs increasing. The annual projected deficit is expected to increase to $1.6 million per year within four years if no changes are made. The service and fare changes are necessary to reduce our deficit and ensure we are more sustainable next year. Without significant new revenues though, major Unitrans service reductions will be necessary within the next two to four years."
An article published by UC Davis University News briefly described the two transit systems impacted by the budgetary and service changes occurring.
"Unitrans, which recently celebrated its 50th anniversary, carries more than 4 million passengers annually around the campus and city — operating 49 buses (including vintage double-deckers from London) on 18 routes," the article stated. "The Associated Students of the University of California, Davis, runs Unitrans in partnership with the city."
The article also stated that DCT, a "city-run service for qualifying disabled residents, is pursuing its own fare increase."
The proposed fare changes, according to the press release, will increase costs for single rides, 10-ride tickets, monthly passes, quarterly passes and annual passes.
"Under the Unitrans proposal, the fare for a single ride would go up 25 cents to $1.25," the release stated. "Unitrans' other fare proposals: 10-ride ticket — $7.50, (from $6), Monthly pass— $30 (from $25), Quarterly pass — $77 (from $64), Annual pass — Two-stage increase, first to $198 (from $180) on July 1, 2018 and to $216 in July 2019."
Flynn attributed the transit system's steady prices to the sound fiscal planning done by Unitrans. Flynn went on to describe the transit system's reasoning behind the increase in fare and how it compares to other local public transportation.
"Unfortunately, with rising labor costs, Unitrans is looking at both cost reductions and revenue increases," Flynn said via email interview. "Unitrans will still have lower fare and pass prices than any transit agency serving Davis. Yolobus currently charges $2.25 per ride, the Solano Express charges $2.75 per ride, and the UCD-UCDMC Shuttle charges $1.50 per ride."
Undergraduate students will not be impacted by the fare changes due to the quarterly fees paid by students, which bypass the regular bus pass or cash fee.
"It should be noted that while the cash fare and pass prices haven't been increased since 2004, UCD undergraduates voted in 2004 and in 2007 to increase the quarterly fee every UCD undergraduate pays for Unitrans service," Flynn said. "The Unitrans undergraduate fee has not been changed since 2007."
Unitrans is also adjusting its bus routes and various other service changes including adjustments to the B and K Lines while discontinuing the C Line.
"[Unitrans will] reroute the B Line to serve Wake Forest Drive and UC Davis' Cuarto Residence Area," the press release stated. "Service would continue on a 30-minute frequency. Because the C Line operates later than the B Line and the K Line, which operates on Russell Boulevard, Unitrans would extend service to 9:30 p.m. on the B Line and 9 p.m. on the K Line."
The adjustments extend further to the D, G, J, W and V lines, which will be reducing midday service to 30 minute intervals between 10 a.m. and 3 p.m. The T Line will also be adjusted to serve the Wildhorse and Slide Hill Park neighborhoods as well as Holmes Junior High School. A new line will be established in order to provide direct access between West Davis and Davis High School and Holmes Junior High School. Additionally, the Amtrak Sunday evening shuttle will be discontinued.
Flynn described how Unitrans will be communicating these changes with university students and community members in Davis.
"With the changes, we will be posting notices at impacted bus stops, placing information inside our buses and at the terminals, placing ads in the Aggie and Enterprise, and displaying changes on Nextbus and on the bus electronic headsigns," Flynn said. "Route changes are expected to begin on Monday, August 6 when Summer Session II begins. We will need to retrain drivers and other employees however we do not foresee any difficulties in doing this."
Written by: Priyanka Shreedar — campus@theaggie.org