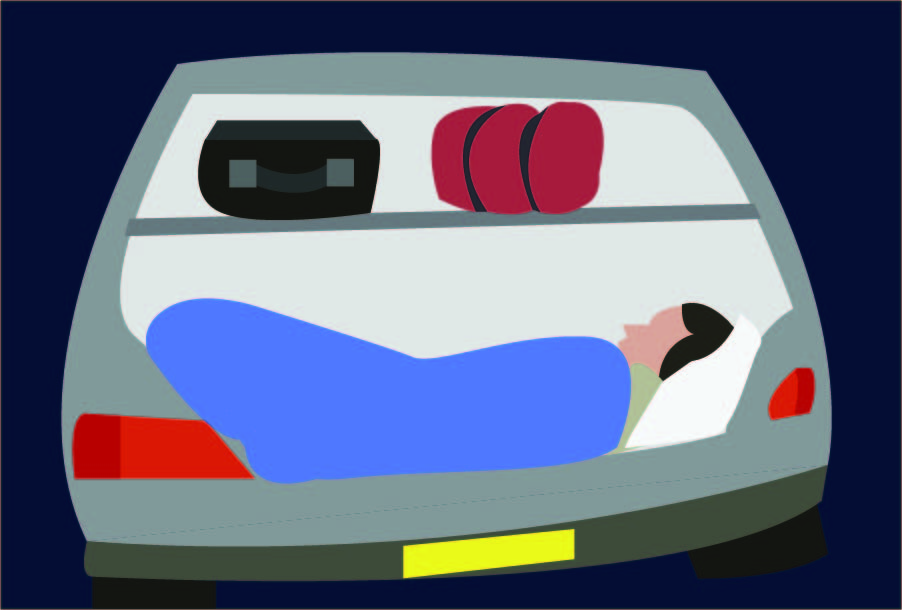 Awareness campaign brings Davis's housing situation into perspective
Rather than get a good night's rest on the campaign trail, Davis city council candidate Eric Gudz slept in their car for a week.
"There's definitely a lot of things that I picked up on right away," Gudz said. "The sheer amount of energy that that process took was noticeable. It took a lot of energy to figure where you want to sleep and getting the environment right. That was a big realization for me."
Eric Gudz is running for city council on a campaign based around affordable housing, transportation and community building.
"Issues around the homeless and rental crisis wasn't really getting the attention it deserved," Gudz said. "If I am on the council making policy in the interests of students and other renters, I have to understand that [situation] the best as possible."
Gudz questioned how to best maintain the population in Davis by ensuring that the new generation has a place.
"We need to be able to keep folks here, otherwise they won't be investing in the community and we'll be losing a part of our community because we cannot accommodate everybody," Gudz said.
Shahrukh Hameed, a fourth-year sociology major and global disease biology minor, however, does not see much help coming to UC Davis students. To the contrary, Hameed's friend's friend received help from Sacramento State's emergency housing program, which offers students with nowhere else to stay up to 30 days in the residence halls. Acceptance is on a case by case basis, but once approved, it would also come with two free meals a day at the dining commons.
"Sacramento State does a much better [job being] more open about the aid that they provide for their students," Hameed said. "I think that that's something Davis should adopt for its students in need."
On the policy side, the city of Davis has tried some programs to address the housing crisis. For homelessness, Cesar Chavez Plaza offers 53 units worth of temporary housing for homeless people. A job training program also moves the homeless into permanent jobs, according to Mayor Robb Davis. A homeless outreach coordinator connects people with services. To assist renters, Yolo County has received a grant from Sutter Health to provide bridge vouchers. These temporary vouchers aim to assist renters while they wait to enter the federal housing voucher program, which helps low-income people cover housing costs. The biggest obstacle to programs like these are due to funding.
"It is not inexpensive to either construct affordable housing units in Davis or to work with individuals experiencing homelessness," said Kelly Stachowicz, the assistant city manager for the city of Davis. "We do not have dedicated sources of funding, so funding is a challenge."
According to Stachowicz, rental housing developments need to set aside 15 percent of rental units for people designated as low-income. The Yolo County area median income in 2016 was $57,663. The city council planned to set aside 35 percent of new rental units to low-income residents, but has decided to keep it at 15 percent for the rest of the year. To qualify for lower rents, low-income is defined as having 80 percent of the area median income and below.
The city also sets aside 10 to 25 percent of housing development for home ownership, depending on the type of home. Within home ownership, 120 percent and below the area median income is considered low-income.
"If it is a single family home type of development, a developer may propose certain units that are reserved," Stachowicz said. "The prices of those houses would be capped at a certain income level."
Davis sees major challenges when it comes to tackling the housing crisis. He also noted that, despite counting the amount of people sleeping on the streets or in shelters every two years, it's hard to assess the varying needs that people have.
"We're not really clear what the magnitude of the problem is," Davis said. "Providing services, it's hard to get a handle of the need."
Written by: Justin Chau — city@theaggie.org