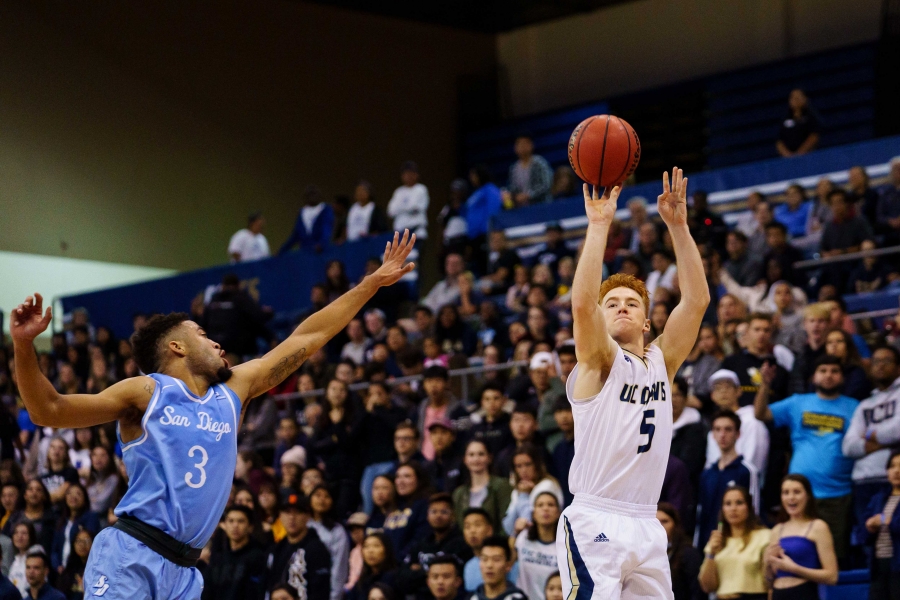 Men's basketball left searching for answers after opening homestand
The UC Davis men's basketball team fell in its second straight game, losing 76-57 to visiting University of San Diego Toreros on Friday night at the Pavilion. A lot went wrong for the Aggies, with the team holding on in the first half before being overran in the final 20 minutes. The performance came on the heels of a 76-42 loss to the University of San Francisco in Tuesday's season opener.
"In general, we all have to do a better job," said UC Davis Head Coach Jim Les. "We've got to right the ship. I did think our intensity and effort was better tonight than it was on opening night. Now we've got to bring the execution component. When we didn't execute correctly, they took advantage of it."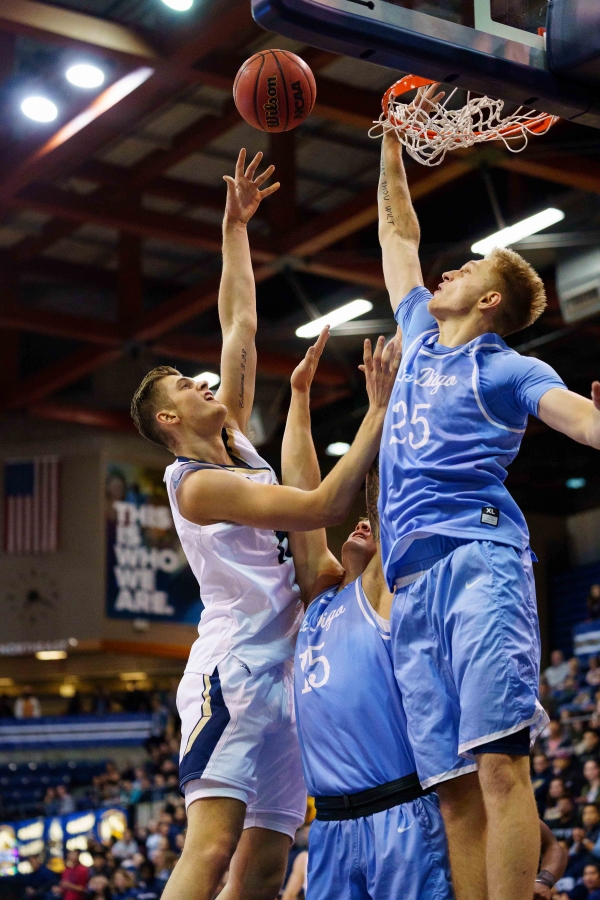 After a 27.5-percent shooting performance from the field in Tuesday's 34-point drubbing, UC Davis came back on Friday and found some success with 34 points in the paint. Nevertheless, the team's shooting from beyond the arc continued with a 3-23 mark, which put the team at just over 14-percent on the young season.
"I thought some of them [three-point shots] were really good, but some of them were rushed and contested," Les said. "We've got to make the next play and the next pass, and trust our teammates and the system. I thought there were way too many early shots."
UC Davis had several promising stretches throughout the contest where they came close to evening the score, but the Toreros were nearly unstoppable on the offensive end. Seemingly every time the Aggies would hit a three-pointer or throw down a slam dunk, San Diego instantly responded with swift scoring runs that stole the momentum back and took the air out of the Pavilion.
"I thought we withstood some runs and every time we were about ready to climb in, we'd have a defensive breakdown, leading to a bucket or a big three," Les said. "Those were killers and we were exhausting a lot of energy, but it wasn't efficient."
The Aggies got a boost from their bench, as junior guard Joe Mooney provided a spark with 13 points to go along with 11 more from junior center Matt Neufeld.
"We like Matt's ability offensively to make plays around the basket and get us some easy buckets," Les said. "The team has confidence in him and they'll throw him the ball, so he's got to continue to progress."
Senior guard TJ Shorts, the reigning Player of the Year in the Big West conference, was the team's leading scorer with 17 points.
The Aggies are now left struggling after two embarrassing showings in front of their home fans. Things won't get any easier for UC Davis, as a three-game swing to Arkansas and Arlington, Texas awaits them over the next week.
"We're going to lace 'em up a little tighter and coach 'em up a little bit harder," Les said. "No one feels sorry for you. We've got to just continue to plug away and get better day in and day out, game in and game out. I've got confidence in this group that they're going to turn this around."
It was a tumultuous first half for UC Davis, but the Aggies managed to survive and stay within five points before the teams headed to the locker room.
UC Davis was able to shoot itself out of an early 2-for-10 slump and a 3:45 scoring drought. In the meantime, San Diego went on a 14-2 scoring run and was simply not missing shots, hitting six in a row at one point.
The Aggies weathered the storm, partly due to their ability to draw fouls and get to the free throw line. The team ultimately finished 14-for-17.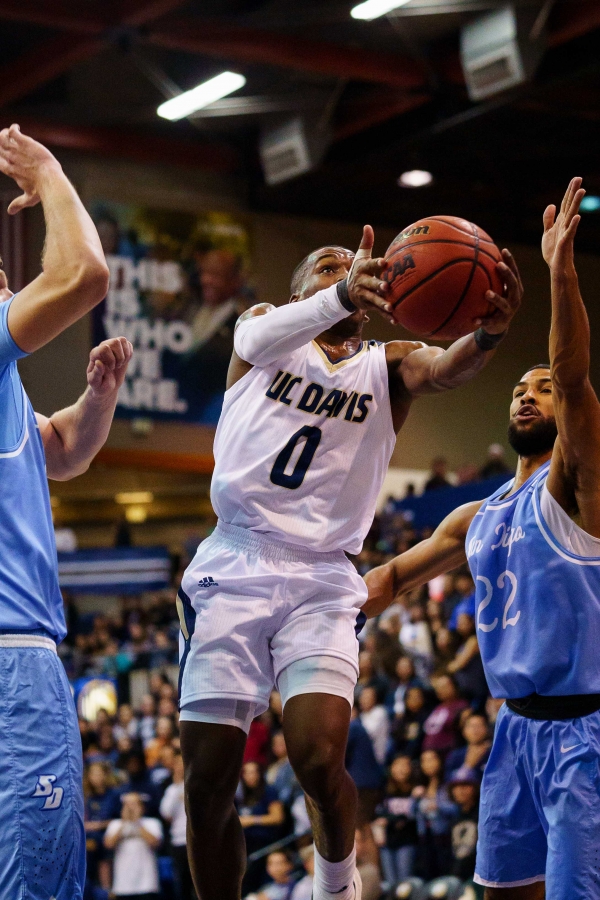 UC Davis rattled off a 11-4 run to take a brief one-point lead with under seven minutes left in the first half. Mooney grabbed a steal in the backcourt and drove coast-to-coast for a layup, bringing the home crowd to its feet for the first time and drawing a timeout from San Diego. The Toreros quickly stole the momentum back with seven straight points, building their lead back up to 32-26 in the blink of an eye.
San Diego bolted out of the locker room to start the second half, putting together scoring runs of 7-2 and 10-4 to take a commanding 12-point edge with under 12 minutes left to play. Another run of 10 straight points put the Toreros ahead by 22 at the four-minute mark, their largest lead of the night. Toward the end of the game, UC Davis did not make a single shot from the field for over seven minutes, before junior guard Rogers Printup banked in a layup with 11 seconds to go.
Following the next four road games, the Aggies will return home to the Pavilion on Nov. 29 to face Northern Arizona University.
Written by: Brendan Ogburn — sports@theaggie.org