College newspapers are more than just breaking news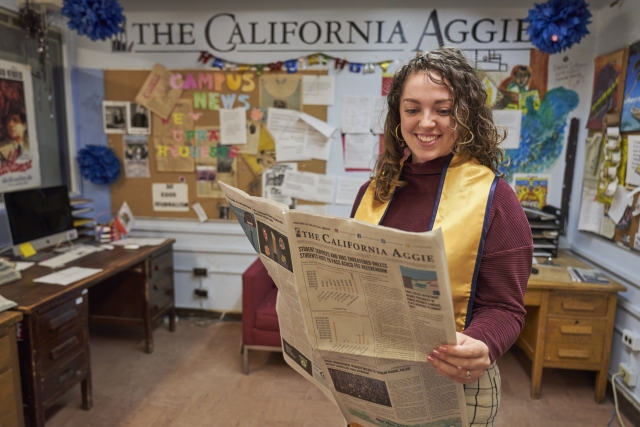 I knew I wanted to be part of The California Aggie before I even set foot on the UC Davis campus. I emailed then editor-in-chief Scott Dresser to ask when they would be hiring over the summer, to which he (graciously) responded that applications would be available in Fall Quarter. I didn't know what to expect when I walked in for my interview, but I left 25 Lower Freeborn full of excitement and nerves. A few days later, I was a sports reporter — and no matter what Dominic Faria tells you, I was the best sports reporter to ever grace our seismically unsound office.
Just kidding.
Two years later, I managed to convince Emily Stack that I was qualified for the arts & culture editor position because I had seen "Phantom Thread" starring Daniel Day-Lewis and "got it." Serving as the arts & culture editor has been one of the most rewarding experiences of my life. Every day, I had the opportunity to listen to and speak with writers about their different passions — architecture, music (from mainstream to so underground that I don't even know how to describe it here), overalls and A24.
Because that's what the arts desk is: an outlet for incredibly creative, eccentric people to explore and develop their interests and ideas, no matter how niche. I've edited articles ranging from recreational cocaine use to Earl Sweatshirt to beer die to black-and-white Polish films. The arts desk is unlike any other desk. Our meetings are the largest (and loudest), we all accidentally wear Carhartt on the same day and once, we all bought tickets to Mac DeMarco's Sacramento concert despite zero coordination.
What does this have to do with my future career, you or my future employer might ask? Almost nothing. I don't plan on working for Pitchfork (because who could ever work for a company that gave The Strokes' "The New Abnormal" a score of 5.7?), and I won't be a hard-hitting New York Times reporter. I won't move from co-producing Couch Concerts with Caroline Rutten to producing Tiny Desk Concerts for NPR. But that's what college clubs and organizations are for — four years of exploring your interests and pouring your heart and soul into those interests, just to say goodbye and leave it to the next class of high school graduates who are emailing the editor-in-chief to ask about hiring as I write this.
I can't begin to describe how often I was so drained — emotionally and physically — from daily meetings, seemingly never-ending endorsement interviews, early morning distribution and late night editing.
But I wouldn't trade any of that for the world. Because for every tense Editorial Board meeting in which we debated our campus' and country's most pressing issues and thought critically about how to approach them, there was an editorial that we were all proud to put our names on. And for every late article, there was an article that either brought me to tears or brought on a fit of laughter.
College newspapers are where the next generation of journalists develop their passions for reporting. But it's also where future doctors, lawyers and academics make life-long friends and learn to care about what's going on around them.
Liz Jacobson served as the arts & culture editor from fall 2018 through spring 2020. She joined The California Aggie in fall 2016, where she worked as a sports writer for two years, covering men and women's basketball, baseball and volleyball. She took a quarter off from working at The Aggie to study abroad in Madrid, Spain during spring 2018. She is graduating with bachelor's degrees in Spanish and political science-public service.

This column is a part of our 2020 Senior Issue. The rest of the issue can be found here.