With its head in the books, students feel represented by Bookhead's dedication 
By ADHITHI ANJALI — arts@theaggie.org
For another year, UC Davis students vote for their picks of the Best of Davis, from restaurants to our iconic Eggheads. 44.4% of surveyed UC Davis students named Bookhead, the Egghead stationed right in front of Shields Library, as the best Egghead on campus. 
When picking a favorite, it's clear students are thinking about campus culture and which Egghead best represents all of us. Sure, Eye on Mrak has a gleeful, carefree aura and the Yin & Yang pair in front of Wright Hall look like they have a great relationship going on. But Bookhead speaks to students most because they know the feeling it portrays well. 
"He's literally me," Rami Hemsi, a second-year philosophy major, said. Indeed, who hasn't simply put their forehead to a textbook, hoping to just absorb the knowledge?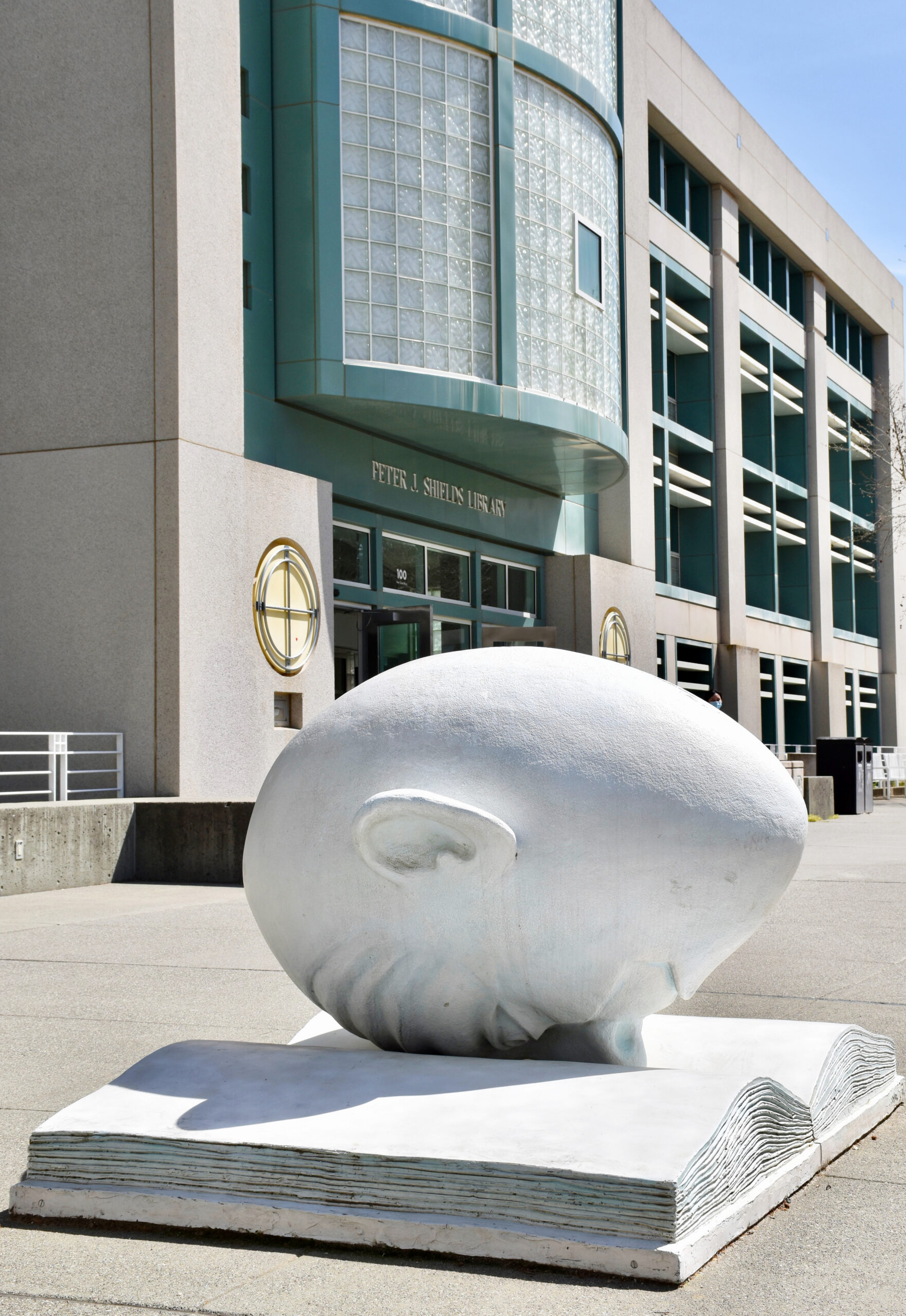 "It's a pretty accurate representation of the reality of being a UC Davis student," Nicodemus Colloredo-Mansfeld, a fourth-year international relations major, said. Art imitates life, so they say. 
Bookhead's supremacy is not unchallenged though. Second-year political science major Lucero Castañeda says that while Bookhead "represents the student population the best," her favorite installation is See No Evil/Hear No Evil, which is found on the way to the Mondavi Center. "I appreciate a good love story," Castañeda said.
Created by the late UC Davis professor Robert Arneson, the Eggheads were some of his final works before his death in 1992. These installations remain an integral part of campus identity and ceramic art history. Arneson, along with other California-based ceramic artists, pioneered the ceramic "Funk Art" movement. Characterized by intense expression, often vulgar humor and audience engagement, the Eggheads definitely get the art historians and laymen alike fired up all over campus.
Written by: Adhithi Anjali — feathures@theaggie.org