By LILY FREEMAN — features@theaggie.org
Famous for its high-quality food selection, affordability and engaging crewmembers, Trader Joe's provides the best grocery shopping experience most college students could ask for. Whether it's purchasing one-of-a-kind snacks on the way to class or stocking up on the frozen essentials (vegetable gyoza, jasmine rice) to get through the quarter, it is clear why 64.6% of surveyed students believe it is the best grocery store in Davis.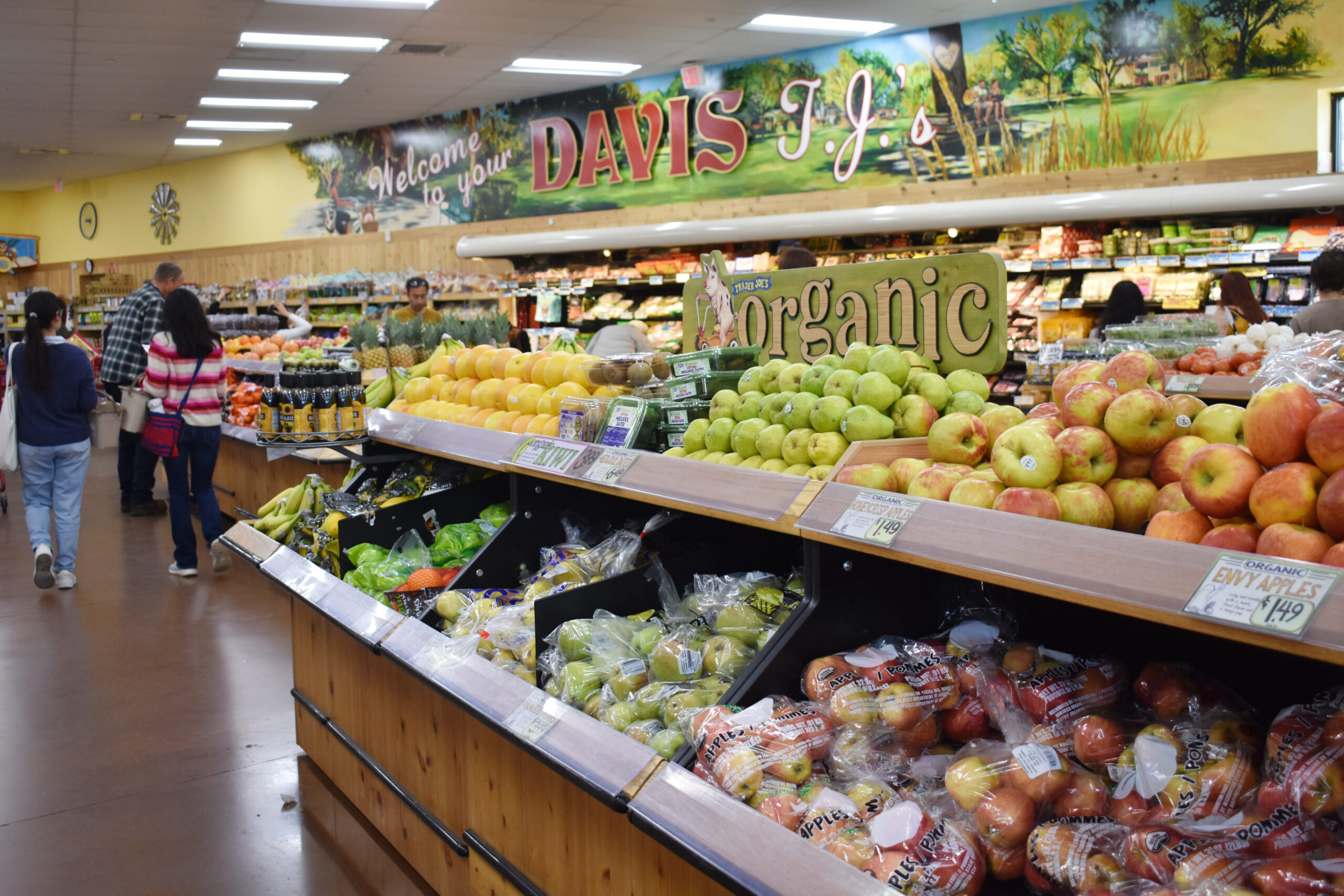 Not only are their snack and meal varieties unique, but Trader Joe's also creates an inviting environment that keeps customers looking forward to their next shopping experience. 
"I always feel welcome in that store," Ella Swadley, a second-year human development major, said. "It is my favorite grocery store mostly because of the community that it brings together." 
The store appeals to customers of all kinds, from families with bright-eyed children thrilled to complete the scavenger hunt for the store mascot, Agnes the Cow, to students in need of a midterms pick-me-up via the seasonal stickers and lollipops offered at checkout. 
Emmeline Thomsen, a second-year design and sociology double major, explained why Trader Joe's is her go-to grocery store. 
"It is a lovely environment to shop in because of the friendly workers that are always engaging and kind," Thomsen said. "As a design student, I also love the colorful signage. It brings a more fun element to shopping. Of course, they also have delicious food, ranging from fun snacks to yummy frozen meals that are essential as a college student." 
Amelia Swanson, a second-year sustainable environmental design major, said that she is hooked because of the affordability of the grocery store. 
"As a student, I am always searching for where I can get the most bang for my buck," Swanson said. "Trader Joe's makes it too easy. They know how to make everything they sell exciting and fun while keeping it cheap enough to give me the power to try it all." 
Aside from its versatile and affordable product selection, Trader Joe's is backed by upbeat workers. America Negrete, a fourth-year wildlife, fish and conservation biology major, described her experience as a crewmember at the grocery store. 
"I've been working at Trader Joe's for a year now, and I can confidently say that it was one of my greatest decisions to apply," Negrete said. "There is never a boring day. The environment is so welcoming and I've made some of my closest friends through the job. Most of us are students so we all have a deeper understanding of what we are going through and connect so well." 
Max Isensee, a fourth-year political science major and crewmember at the Davis location, agreed.
"As an employee, Trader Joe's has led me to making so many friends and connections," Isensee said. "The job is all about human interaction and customer service, which is why customers keep coming back." 
Open from 8 a.m. to 9 p.m. every day, expect not just an average grocery shopping trip but a well-rounded experience created by both the exciting products and passionate workers when stopping by Trader Joe's. 
Written by: Lily Freeman — features@theaggie.org